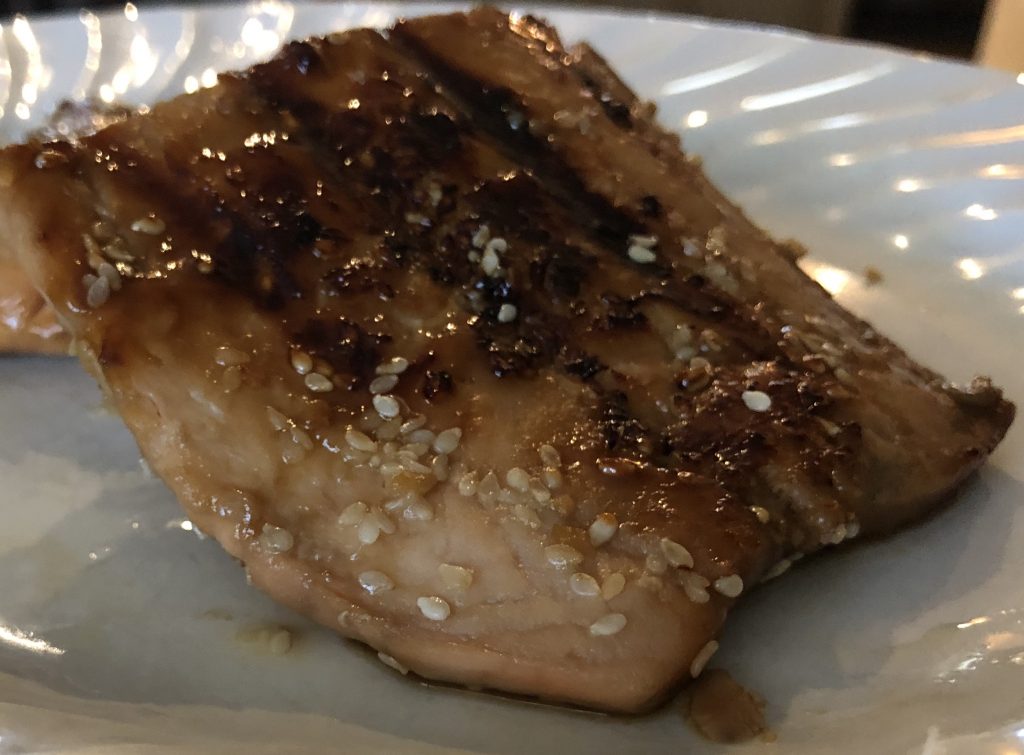 Coconut Aminos is a delicious substitute for soy sauce with 73% less sodium.
To make a marinade for salmon I mix 1/2 cup liquid Coconut Aminos, 1/4 cup honey and 1 tablespoon chopped garlic. Mix well and transfer the marinade into a ziplock bag.
place 2 thick cut salmon filets in the bag, zip the bag and turn several times to coat the fish.
Place the fish in the refrigerator and continue to marinate over night.
To prepare the filets remove the salmon from the marinade. Use tongs to lift the fish from the marinade holding them to allow excess marinade to drip back in the bag. Transfer the filets to a plate and sprinkle with sesame seeds, turn and sprinkle seeds on the other side as well.
Put the filets on a medium hot barbecue grill. Grill for about 3 minutes one each side. You want it to be cooked through but not over cooked.
TIPS:
This dish also works well prepared on a indoor grill. Heat the grill. When hot out the fish on the grill and shut the lid. After 2 minutes lift the lid, turn over the filets and re-shut the lid. Grill for another 2 minutes. If not cooked through, grill for 1 more minute. Turn and cook 1 more minute on the other side.
There is also plain liquid aminos, but I prefer the coconut aminos. It has a milder, sweeter taste.