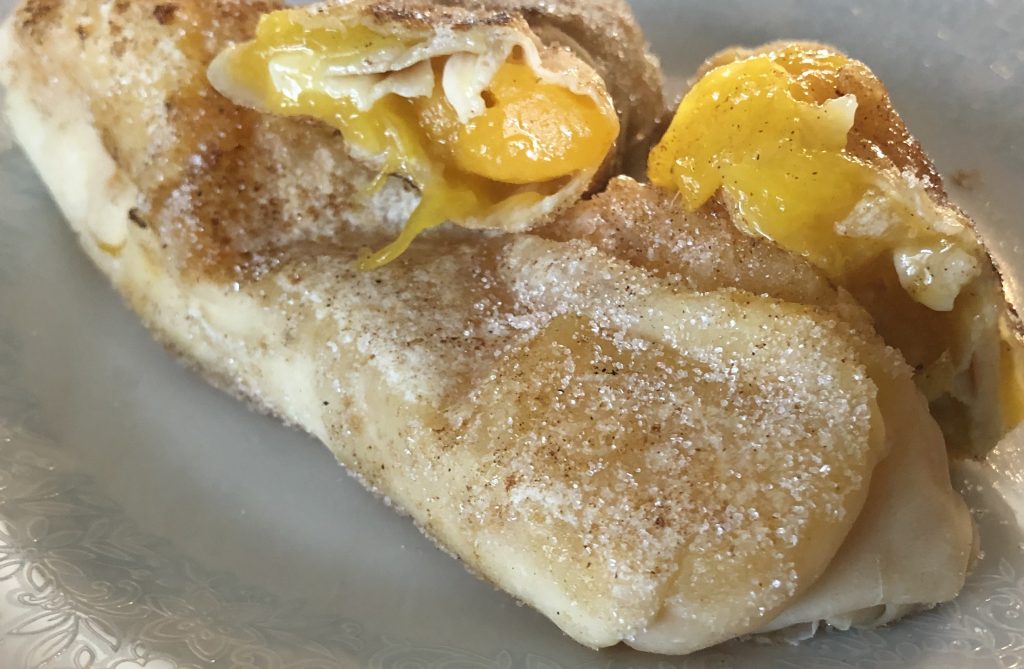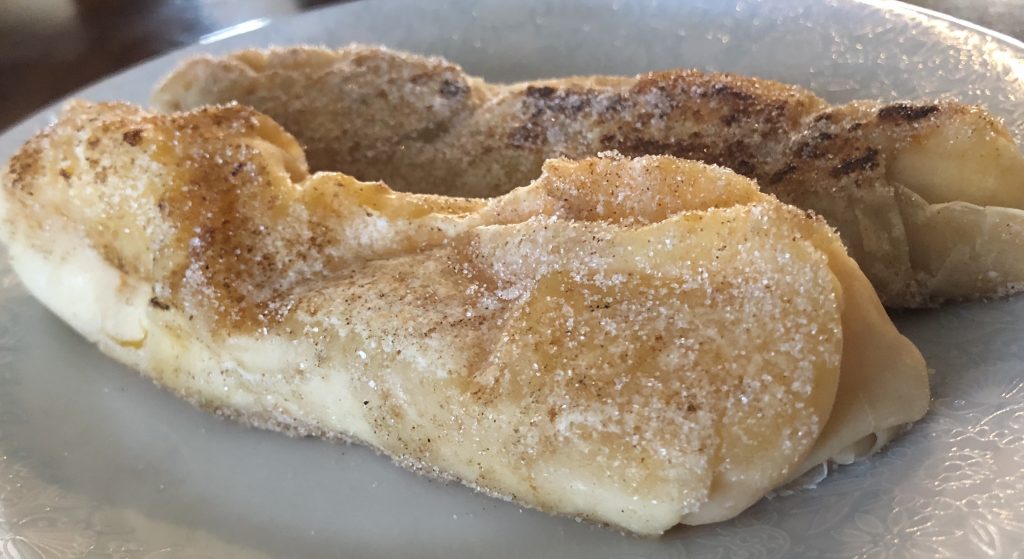 Begin by making homemade flour tortillas.
Measure 4 cups of flour into a large bowl. Add 2 teaspoons baking powder, 1 teaspoon salt and 2 tablespoons vegetable shortening. Wearing disposable gloves start working the shortening into the flour with your hands. Work it until it resembles cornmeal. Add 1 1/2 cup water and continue working the dough and kneading it until smooth.
Shape the dough into a ball and place on a floured surface. Separate the dough into 24 equal pieces. Shape each piece into a ball. Place each ball into a 7 1/2 inch tortilla press or roll into a 7 1/2 inch circle with a rolling pin.
Set tortillas aside stacked with waxed paper separating each one. Store left over tortillas in the freezer. Make sure they are completely separated by waxed paper.
The Filling
The ones I made here are filled with peaches and mangos. I used frozen fruit. I put a little water in the bottom of a sauce pan, add 1/2 cup sugar to fruit and slowly cooked the fruit down. Once cooked, smash the fruit and drain off any excess liquid. I just let it drain through a colander.
One by one spoon fruit filling down the center of each tortilla. Fold each side toward center and then beginning with the side closest to you, roll the tortilla. Coat a small cast iron skillet with a small amount of olive oil. Place empanada seam side down and begin to brown on both sides. When browned roll in a mixture of cinnamon and sugar. Let cool.
TIPS and SUGGESTIONS:
Use your favorite fruit. I wouldn't use pie filling though. Cooked fresh or frozen fruit would work best. Make sure it's warm when you fill the tortilla.
I'm thinking about trying a cooked lemon filling or a sweetened cream cheese filling. Don't Be Afraid to Experiment!
I used the lid of my 6 quart Dutch Oven
to fry the empanadas. It is the perfect size.