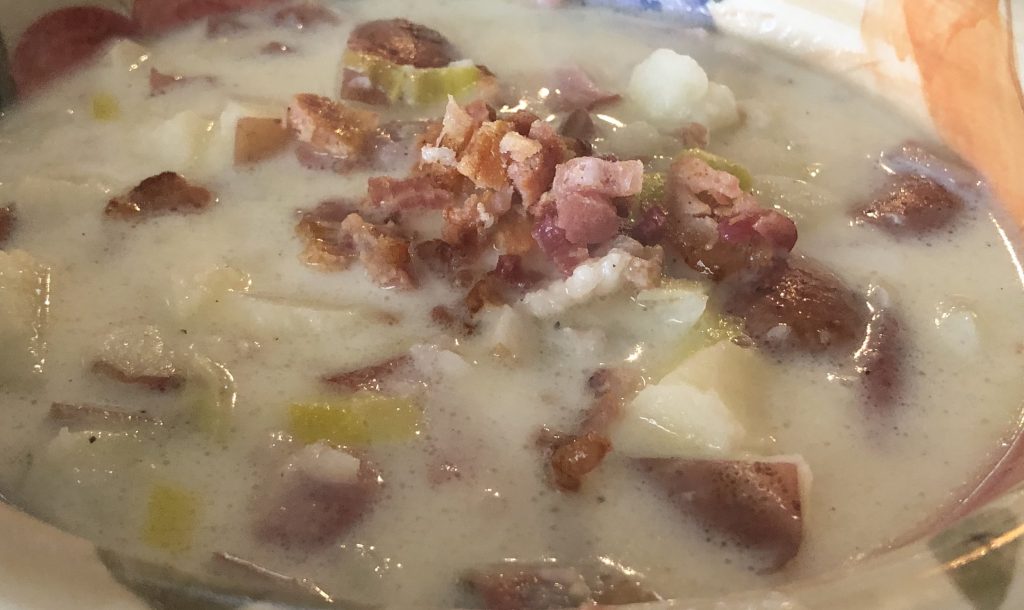 Whenever I make potato soup I think of my Mama. She always made it for me when I was little. Over the years I've dressed it up a bit and I think the results are pretty tasty.
Here's how I do it.
Wash and cut into cubes 8-10!medium size red potatoes. Leave the skins on. Place in a large soup kettle. Chop the white of one leek into small pieces. Cut three pieces of uncooked thick cut bacon into bite size pieces. Add leeks and bacon to the potatoes in the kettle. Cover the ingredients with water plus 2 inches. Bring to a bowl and then reduce heat to medium and cook until potatoes are tender.
In a small sauce pan melt 2 tablespoons real butter. Whisk in 3 tablespoons flour to form a paste like consistency and then whisk in 1 cup heavy cream until a smooth roux is formed. When potatoes are tender (do not drain) stir roux into water/potato mixture. Blend well and then stir in 1 cup heavy cream. Salt and pepper to taste.
Let the soup simmer a while allowing it to cook thicken a little. Using a potato masher, mash the potatoes just enough to thicken the soup a bit more. You want to leave chunks of potatoes in the soup.
Serve hot topped with a little crumbled crisp fried bacon pieces. So Good!
TIPS:
When cutting the leek, remove green ends. Cut the white leek lengthwise down the center and then cut two halves into tiny pieces.
The easiest way to cut the bacon is to stack the pieces one on top of another and use kitchen shears to lop off pieces.
I like to fry one pound of bacon at a time and store it in the refrigerator. That way you always have some for recipes calling for crisp fried bacon.
If you prefer you can substitute, shallots, green onion or white onions for the leeks.
This soup is hardy and nourishing enough to serve as a main dish.