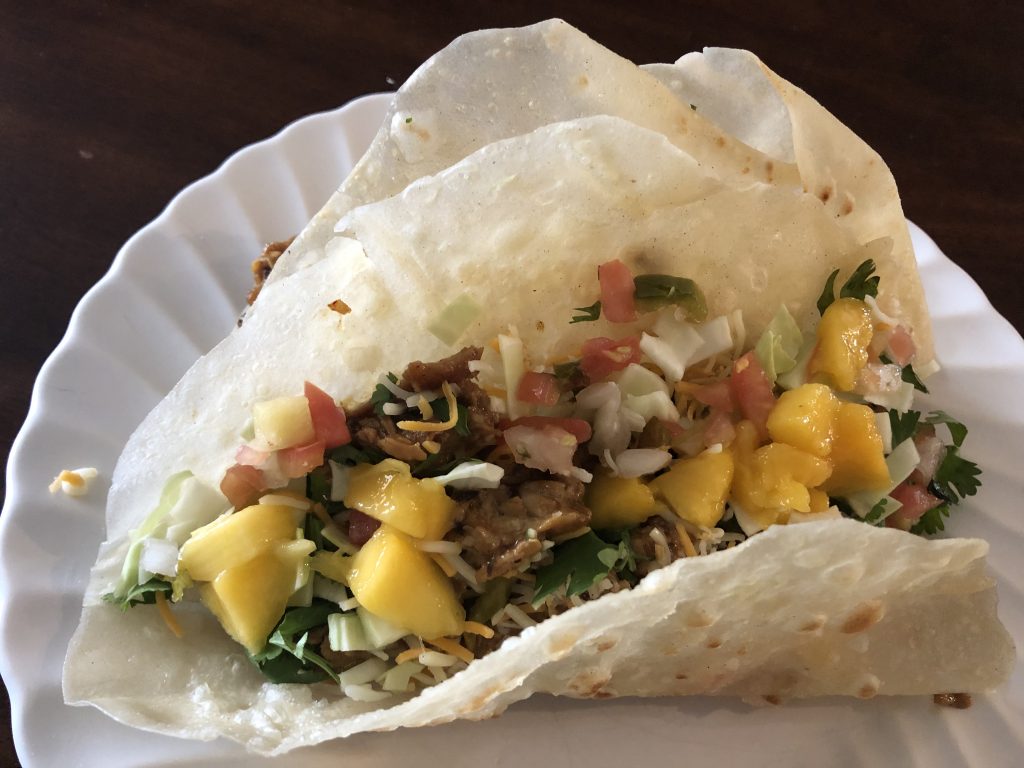 I surprised even me when I came up with these tacos.
Earlier this week I asked my readers what they'd like to cook. One reply was a request for an interesting or delicious way to do tacos.
Here ya go. . .
Using the ridged edge of a meat mallet pound flat 2 large boneless, skinless chicken breast. Heat 2 tablespoons of olive oil in a cast iron Dutch Oven or large frying pan. Add the chicken to the oil. Liberally sprinkle with salt and pepper and cumin seeds. Remove the stem and seeds from a dried Guajillo Chili and lay it on top of chicken while it browns. When browned on both sides remove chicken from the pan and cut or shred into tiny pieces. Return chicken pieces to the pan and add 1 cup mango margarita mix or mango juice. I used the margarita mix and liked the results. Stir in 2 tablespoons lime juice. Cover. Leave the chili on top of the chicken to steam as it simmers on low heat. Remove the chili when chicken is done. This will make enough filling for 6 tacos.
Homemade Tortillas
I didn't have tortillas on hand so I decided to make my own. I'll never use store bought tortillas again. These are simple and delicious.
Measure 4 cups of flour into a large bowl. Add 2 teaspoons baking powder, 1 teaspoon salt and 2 tablespoons vegetable shortening. Wearing disposable gloves start working the shortening into the flour with your hands. Work it until it resembles cornmeal. Add 1 1/2 cup water and continue working the dough and kneading it until smooth.
Shape the dough into a ball and place on a floured surface. Separate the dough into 24 equal pieces. Shape each piece into a ball. Roll each ball into a 7 inch circle.

Heat a little olive oil in a small,shallow, round skillet. Turn heat to medium high and place one tortilla at a time in the skillet. Once it bubbles on top turn it over for a few seconds. Remove the tortilla, place it on a paper towel and fold it over to form a taco shell.
Fill and Garnish
Into each taco spoon first the chicken, top with chopped cilantro, chopped green onions, shredded cheese, shredded cabbage, chunky salsa and fresh mango cubes. Drizzle on a little lime juice.
The are the Best Tacos ever! So Good!
TIPS:
As always recommend that you have a Bethany Pastry Board for rolling out the dough. It even has measurements on it to show the size of circle you've made. - However - after rolling out 24 tortillas, I decided to order a tortilla press. I'll use that next time.
Once the tortilla is the right size it will be paper thin. As I made the tortillas I stacked them on a plate separating each one with waxed paper. Since they are thin, gently add them to the pan and carefully turn them when cooking . They only take seconds to cook. You don't want them to get crispy or they will crack when you fold them.
I put the leftover uncooked tortillas in a seal a meal bag, sealed it and laid it flat in the freezer for later use. Leave the wax paper between each tortilla when freezing.
To fry the tortillas I used the lid from my 6 quart Dutch Oven. It was the perfect size. A 9 inch non-stick round sauté pan would work as well.