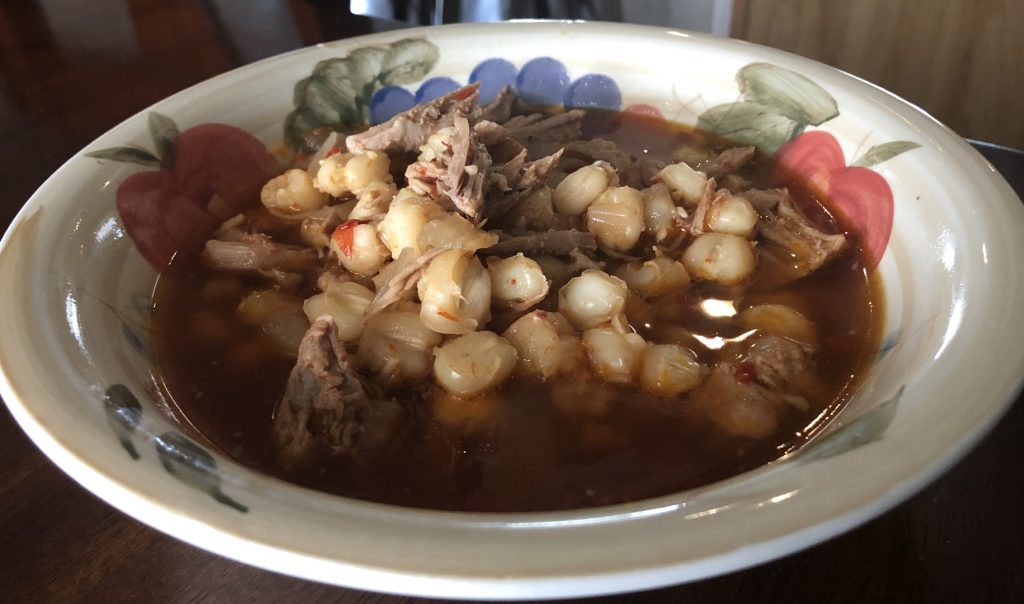 Pozole is a spicy Mexican Soup full of pork, hominy , chili's and spices. It doesn't take long to put it together but plan on several hours to simmer. The longer it simmers the richer the flavor.
Liberally salt and pepper about three pounds of pork shoulder and place it in a large soup kettle. Add 4 cups of chicken broth and enough water to cover the pork by an inch or two. Add 1 large white or yellow onion sliced. Bring to a boil and then reduce heat to low. Add 1 bay leaf, 1 teaspoon of whole cloves, 1 teaspoon cumin seeds, and 2 tablespoons chopped garlic. Cover and simmer on low for 1 1/2 hours.
Meanwhile, remove seeds and stems from 2 dried de Arbol Chili's , 2 dried Ancho Chili's and 2 dried Guajillo Chili's . Place the Chili's in a bowl and pour over them 2 cups of boiling water. Let set In water for 30 minutes. No less or no longer.
Remove the chili's from the water and place them and 1/2 cup of the water they soaked in into a blender. Purée the chili's and add to the soup. Add 4 cups white hominy. Continue to simmer the soup for at least 2 more hours. Longer is even better. I let mine simmer all day.
When the pork is tender remove from the soup and shred it. Return shredded pork to the soup .
TIPS:
I added salt to taste.
This is often served garnished with thin sliced radishes, chopped raw cabbage and chopped cilantro. I prefer it without the garnish, but a dash of lime juice might pop the flavor a bit.
I wear disposable gloves when handling chili's.