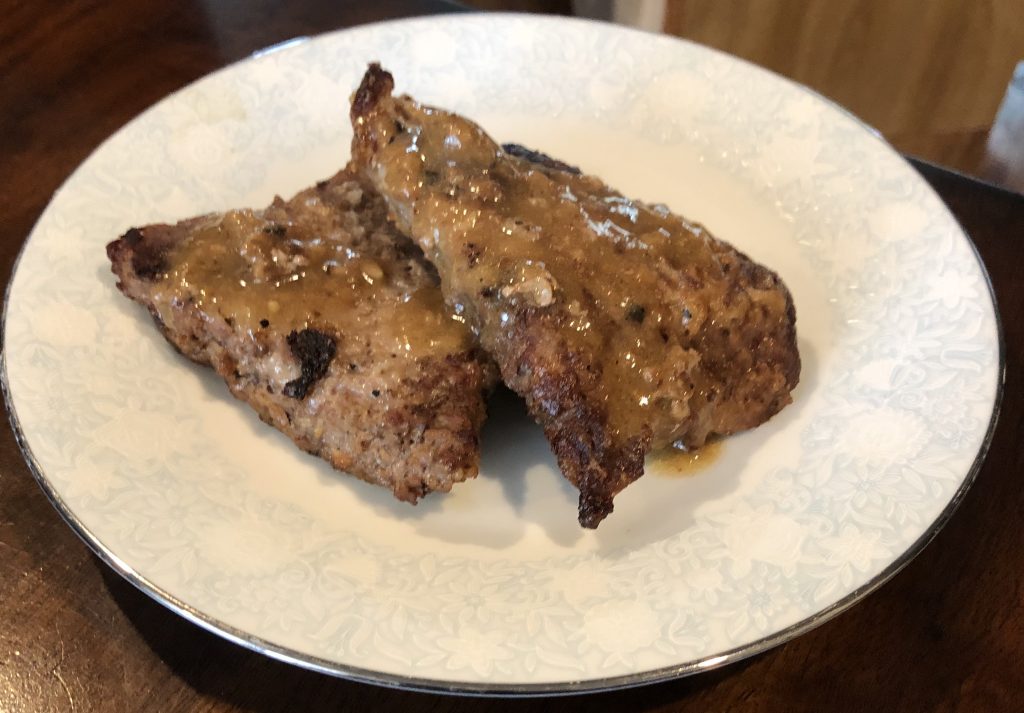 My version of Chicken Fried Steak is a little less "breaded" than other versions. I like the breaded kind, but I have made it this way forever and like it.
My son says his Mom's Chicken Fried Steak is the best ever. Yay Ma! I'll take that one.
Heat on high about 4 tablespoons of vegetable oil in a large cast iron skillet. Pat dry with a paper towel 4 medium size pieces of tenderized round steak. Put about 1 cup of salt and pepper seasoned flour in a zip lock bag. Add the steaks, zip it shut and shake to coat the meat.
Place the steaks in the hot oil and sear on both sides. Turn heat down to medium high and continue cooking to get crispy on both sides. This usually takes about 6 minutes per side. Transfer the steaks to a small roasting pan, cover and place in pre-heated 350 degree oven for 1 hour.
Serve drizzled with pan gravy.
Pan Gravy
In the same skillet where you fried the round steak heat the remaining oil and steak drippings on high. Scrape the bottom of pan to get any meat tidbits left behind. When hot stir in 3-4 tablespoons of flour including any leftover flour from coating the meat, stirring with a whisk until well mixed to avoid lumps. Turn heat down to medium and continue to cook until flour mixture becomes brown (not burned). Starting with one cup, carefully add water to the gravy and continue to stir. It will thicken as it simmers on low. Add more water to thin if needed. Add salt and pepper to taste.
TIPS:
For a lighter coating, use a flour shaker to coat the meat instead of submerging it in flour.
If you are going to serve mashed potatoes, reserve the potato water to use when making your gravy.
Most meat departments have cube steak. They will usually run round steak through the tenderizer if you request it though. In a pinch, if you just have round steak on hand, use the ridged side of a tenderizing mallet to make your own cube steak.