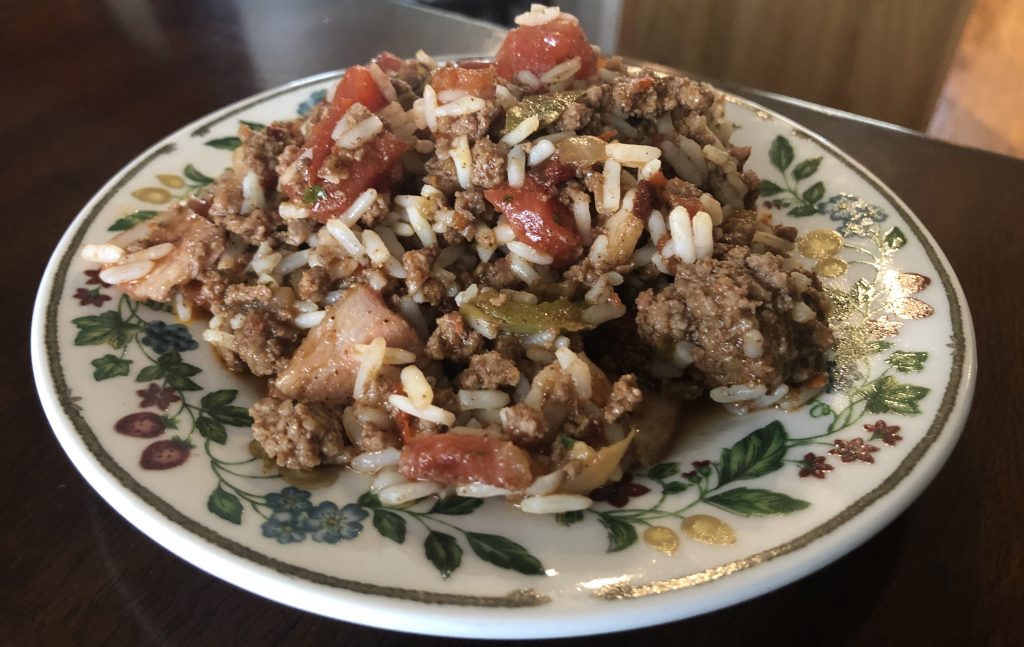 This is good stuff. It's another childhood favorite. I've changed it up a little from how my mother used to make it, but it still has that same appeal.
It brings back memories of my mother but also of the time my daughter Tiffany and I lived together in my grandparents' farmhouse. We always enjoyed the Spanish rice and fried potatoes together. Nothing but starch, but oh so tasty.
I use a 5 quart covered flat bottom Dutch oven so as to go from stove top to finish in the oven all in the same pot, but you can do the first part in a deep skillet and finish in a covered casserole dish in the oven.
Heat two tablespoons of olive oil on high in the Dutch oven. Into the oil add 1 pound lean ground beef crumbled, 1/2 cup each chopped white onion, red bell peppers and green bell peppers. Add 1 chopped jalapeño that has seeds and membranes removed, and one Ancho pepper (seeded and cut into small pieces). Cut two thick slices of smoky bacon into bite size pieces and add to the beef.
When beef is browned, drain off excess fat and continue cooking on medium heat. Add 1 14oz can diced tomatoes, 1/2 cup water, 1 tablespoon dried cilantro, 1/2 tablespoon chili powder, 1 teaspoon Sriracha Hot Chili Sauce, and salt and pepper to taste. Simmer until liquid cooks down a little. Stir in 2 cups cooked white rice. Mix well, cover with Dutch oven lid and place in a pre-heated 350 degree oven for 30 minutes
TIPS:
I use the instant rice that comes in the boiling bags. 1 bag yields 2 cups of cooked rice.
My personal preference before eating the Spanish rice is to sprinkle it with a little Tabasco. Just my taste though.
Remember to wear disposable gloves when working with raw jalapeños.
To remove the seeds from the Ancho pepper, cut off the stem, open the top of the chili and rinse the seeds out with warm water.
Ancho pepper is optional, but they do add a good flavor. Not spicy.