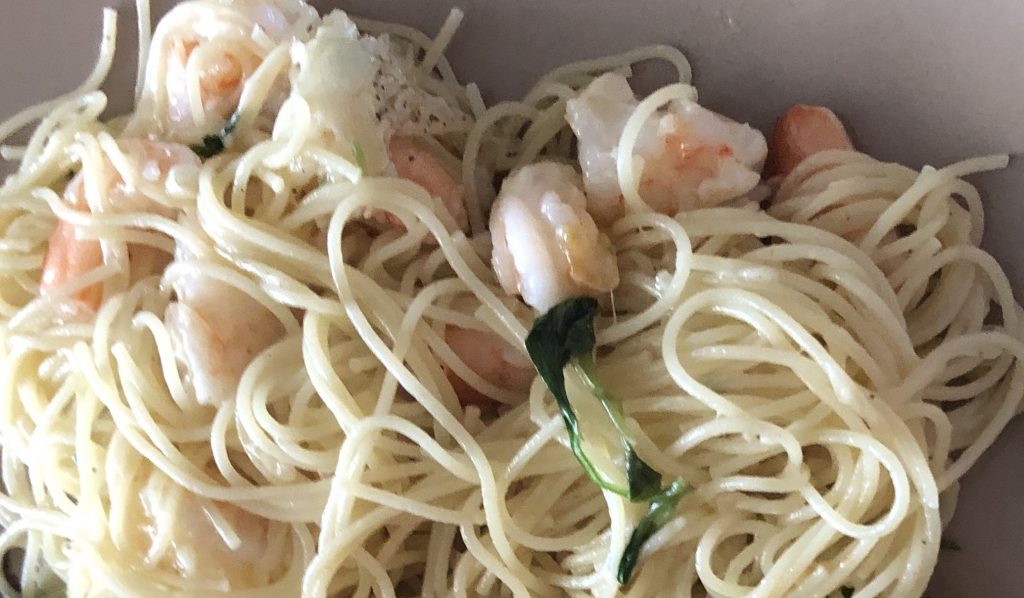 This dish is so simple and so good. In a large skillet melt 2 tablespoons of real butter. Add 2 tablespoons of olive oil and heat. Stir in 4-6 fresh brown mushrooms sliced, 1/4 cup fresh basil leaves torn in pieces, and 3 green onions chopped. Reduce heat and sauté until tender.
Season with fresh ground sea salt, fresh ground pepper 1 teaspoon fresh chopped garlic. It's ok to use the jarred refrigerator kind of you don't have fresh garlic.
Add the shrimp and continue cooking and turning the shrimp to coat with butter and oil mixtures. The shrimp will turn pink when cooked.
Prepare 1/2 package of fettuccine pasta according to package directions.
Drain well and stir in the shrimp mixture. Toss together coating the pasta. Add a little more butter if it seems dry. Toss with s liberal amount of fresh grated Parmesan cheese.

VARIATIONS:
You can substitute angel hair pasta for the fettuccine.
Add sliced cherry tomatoes or slice klamata olives (or both) when tossing the shrimp and pasta.
Fresh chopped cilantro also adds a good flavor.

Don't be afraid to be creative!
TIP:
If your pasta is ready early, remove from the water into a colander but keep your water hot. Before serving pour the hot water over the pasta in the colander. Cold pasta can be refreshed this way as well.