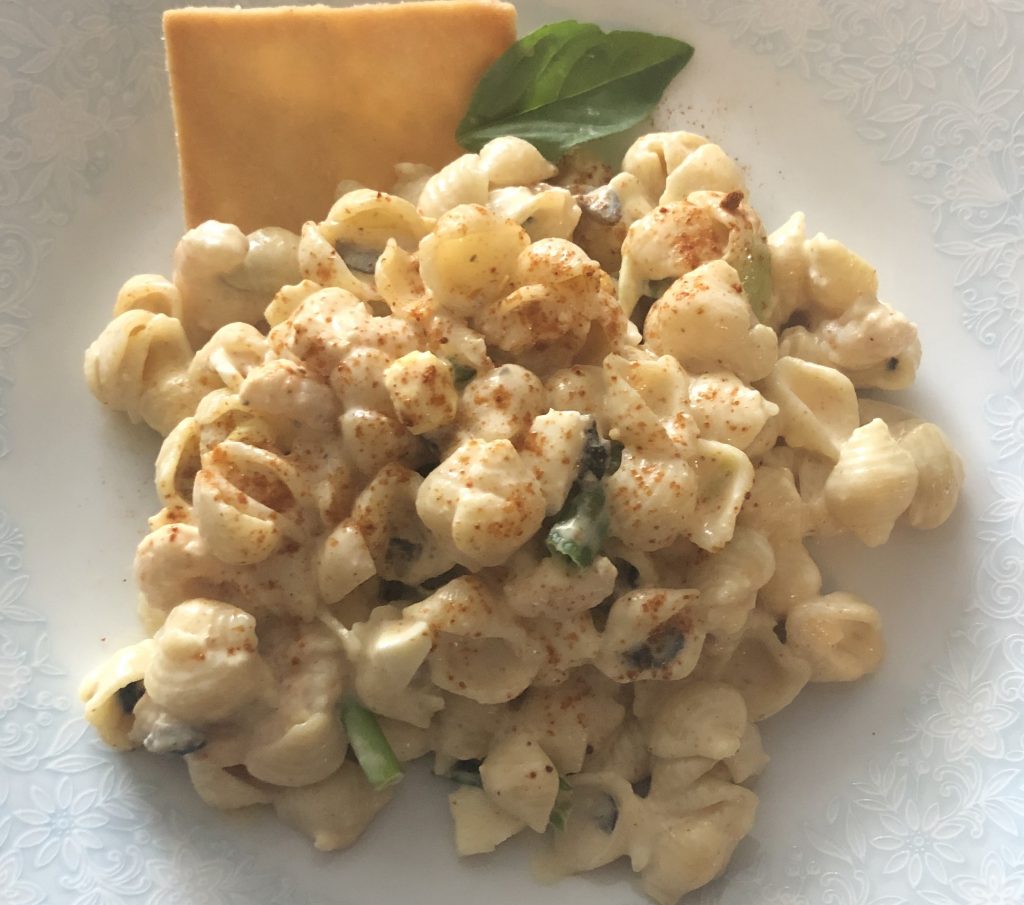 Typically a macaroni salad has elbow macaroni, mustard, mayonnaise and such. I'm always disappointed if I go in for the Mac and get the same old thing; Or worse, if it has been made with anything other than Real Mayonnaise.
You can create a much tastier salad by changing up a few things.

I like to use shell macaroni that has been cooked in salt water according to package directions. When cooked, drain into a colander and rinse with cold water. Set aside.
I usually use 1 small package of pasta.

In a large mixing bowl mix 4 hard boiled eggs that have been cooled, peeled and chopped with 3 chopped green onions, 2 tablespoons pickle relish (either dill or sweet), 1 cup frozen salad shrimp (thawed), and 1/3 cup cooked and crumbled bacon.
Stir the cooled pasta into this mixture. Add a little at a time real mayonnaise. Stir after each addition. You don't want to get the salad to soupy. To this mixture add 1 tablespoon lemon juice or vinegar. Season to taste with salt, pepper, paprika and a dash of cayenne pepper. Sprinkle the top with paprika.
VARIATIONS:
It's ok to add a little yellow mustard, but not too much.
Adding a small amount of horseradish will give the salad a little zip.
You can omit the pickle relish entirely.
It's also tasty with a few chopped black olives or sliced cherry tomatoes added.
After salad has refrigerated it may seem a bit dry. Just add a little more mayonnaise to get the consistency you like.
TIPS:
I like to use Hungarian paprika. It has a better flavor.
Its ok to use fresh cooked salad shrimp in place of frozen. I pat it dry with a paper towel before adding to the salad.