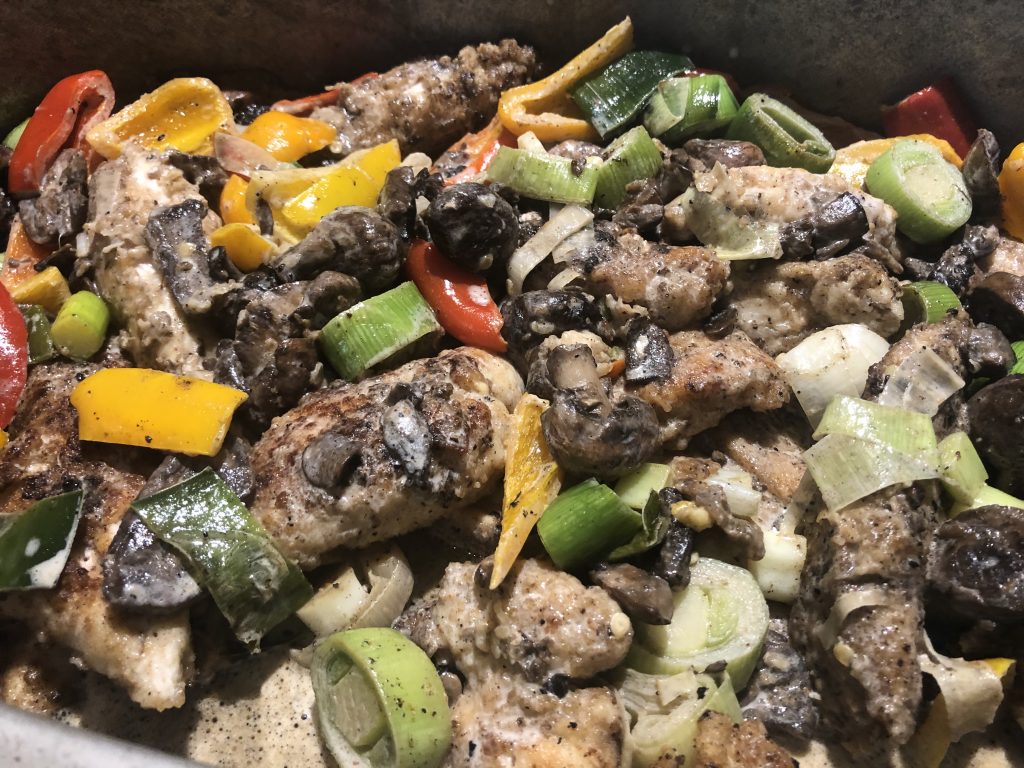 This chicken dish is one of the most requested items by my family. I've been making it for nearly 30 years. It is very rich and very flavorful. Sooo good.
The first thing you'll do is fill a large ziplock bag with 1 1/2 cups flour. Mix in salt, pepper, dried parsley, and Cajun seasoning.
I usually use one whole bag of frozen chicken tenders (thawed, rinsed and patted dry with a paper towel. Toss the tenders a few at a time in the ziplock bag to coat.
Slice as many leeks or white onions, red and yellow peppers and brown mushrooms as you like and sauté them until a little tender in the same skillet where you browned the chicken.
Heat on medium high 1/4 cube of real butter in a cast iron skillet and start browning the coated chicken making sure to brown on all sides. Placed browned chicken in a roasting pan. Repeat this process until all chicken is browned. You'll need to add more butter as you go.
Add to vegetables 1 cup of chicken broth and 1 cup of heavy cream. Season with salt and pepper and Cajun seasoning. Start with a tablespoon of the Cajun seasoning. You'll need to taste test until you have the desired heat.
Bring the broth, cream and vegetables to a bubbling slow boil. Pour it over the chicken, cover and bake in 375 degree Pre-heated oven for 1 1/2 hours. The liquid will cook down. I promise you will get nothing but praise for this one.
TIP:
I have found one of the best Cajun seasonings. It's called 'Slap Ya Mama"! Who wouldn't buy that?? It comes in original and hot. So far I've only tried the original. You can find it on Amazon.