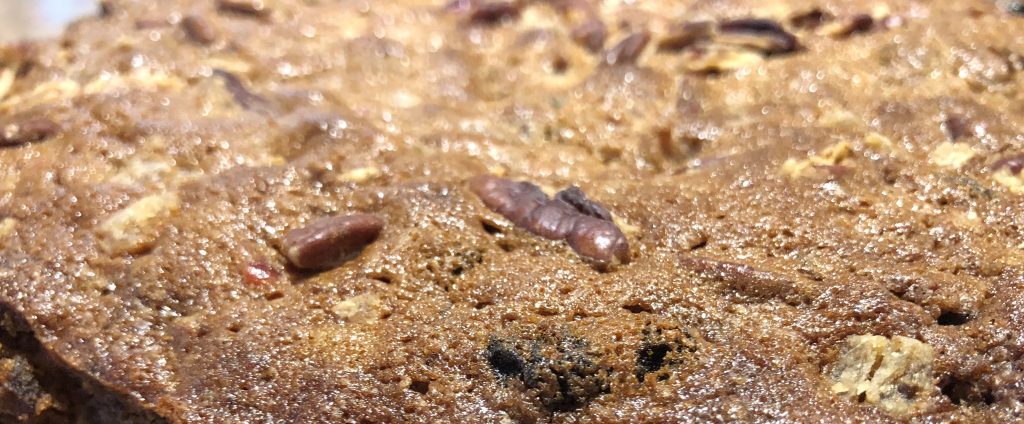 Taste Tester Tom requested a Fruitcake. I've never been a fan, and I've never before made one. I did some research, put together what I learned and came up with this method.

Here's what you'll need.
Candied fruit mix
Chopped dates
Currents or Golden Raisins
1/3 cup grated crystallized ginger
Sliced Pecans or Walnuts
1 bottle of brandy
1 cup room temperature real butter
2 packed cups dark brown sugar
1 teaspoon salt
1 teaspoon cinnamon
1/4 teaspoon all spice
1 teaspoon baking powder
4 eggs at room temperature
3 cups flour
1 teaspoon jet black cocoa powder
1/4 cup boiled apple cider
1/2 cup water

In a large plastic bowl mix fruit, crystalized ginger and 1/2 cup brandy. Cover and let rest overnight. Use as much fruit as you desire for your cake.
The next day mix the batter as follows.
Beat together until fluffy butter and brown sugar. Beat in spices and baking powder. Beat in eggs one at a time. Scrape the sides of the bowl after each egg.
Turn the mixer to low and add the flour, cocoa powder, cider and water. Stir in fruit and any juices in the bowl. Add nuts.
Spray a 9 inch spring form pan with non-stick spray. Line with waxed paper or parchment paper and spray again. Spoon batter evenly into the pan. Bake in a preheated 300 degree oven for 2 hours 15 minutes.
Remove from oven and let cool on a wire rack for at least 20 minutes before removing paper and sides and bottom of pan.
Soak cheese cloth in brandy. Squeeze out excess brandy and tightly wrap the cloth around the entire cake. Then wrap in plastic wrap and then tin foil.
Store in a cool dark place for 6-8 weeks. Once a week re-moisten the cheese cloth with brandy and re-wrap the cake.