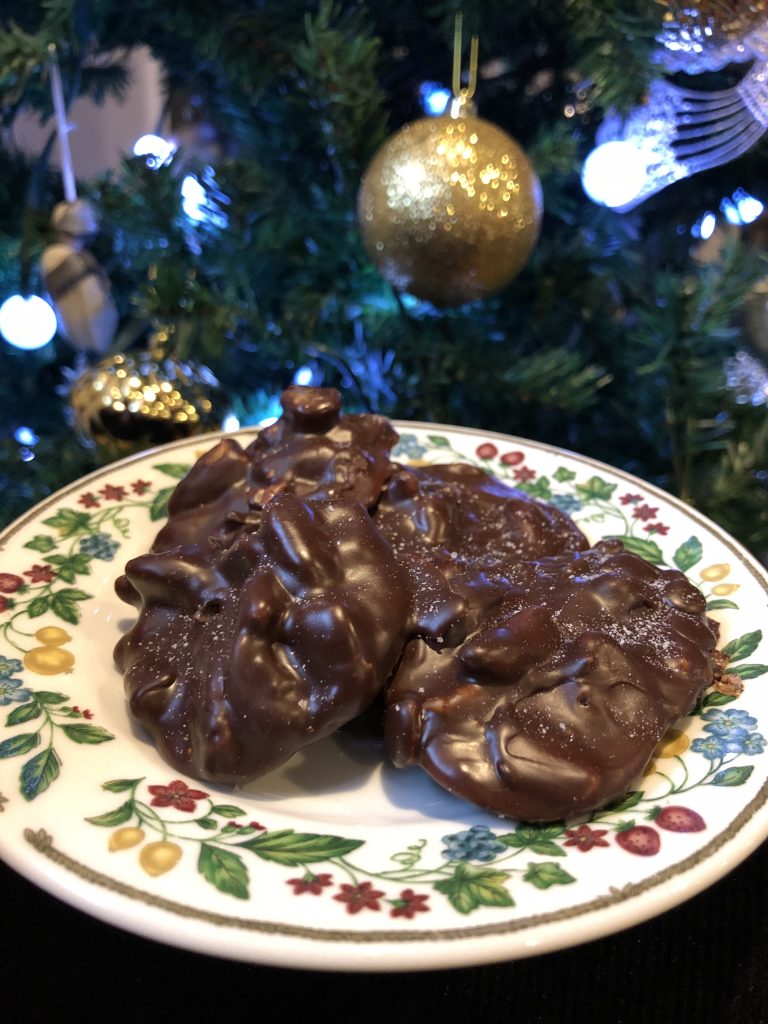 My dear friend Mary shared with me years ago a recipe for homemade Chocolate Pecan Turtles. She said it wasn't her own recipe, but I got it from her. I don't know the origin. I've made a couple of changes to the recipe, but it's still the same delicious candy.
Here's what you'll need.
2 bags of Kraft Caramels ( about 80 pieces)
6 1/2 tablespoons heavy cream
1/4 teaspoon Ground Pink Himalayan Sea Salt
2 cups slivered pecans
1 block paraffin wax (grated)
2 giant Special Dark Chocolate Hershey Bars
1 12 ounce bag dark chocolate chips
Unwrap caramels and place with cream in a microwave safe bowl. Heat a couple of minutes at a time, stirring to mix. Add 1/4 teaspoon sea salt. When completely melted, stir in nuts. Drop tablespoons of caramel into prepared waxed papers. Freeze completely.

Melt paraffin in microwave safe bowl. Stir in chocolates and continue to heat in microwave until all is melted.
Dip each caramel center in chocolate and place on waxed paper to harden. Grind a little sea salt over the top of each turtle.
I've learned a few tricks to make this easier.
Line cookie sheets with waxed paper and liberally spray the paper with non-stick spray. Set aside.
ONLY use Kraft Caramels. Others will stick.
Drop tablespoons of Carmel mixture onto waxed paper and freeze before dipping in chocolate. Spray the spoon with non stick spray to make dropping easier.
Work fast, but keep other trays frozen until dipping. Use a wooden skewer to spear caramel to dip in chocolate. Lift out of chocolate, let excess run off and place coated candy on waxed paper. Skewer comes out easily.