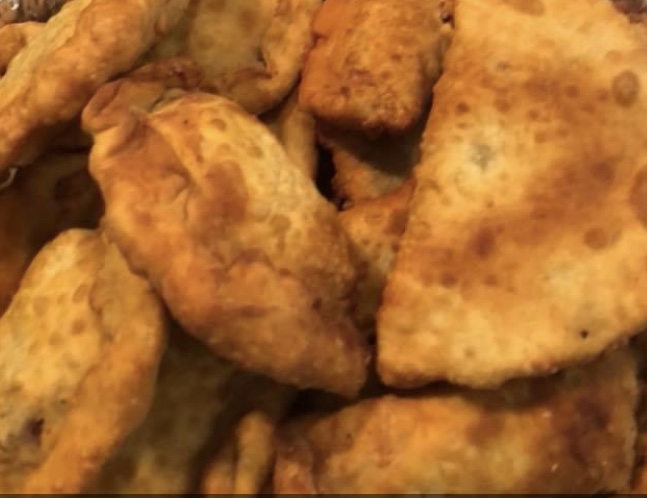 Fleischkuekle is a type of meat pie made with dough, similar to a Cornish pasty. The dish comes from a Russia recipe, and through immigration became an addition to the cuisine of North Dakota.
The delicious little fried meat pies have been the focal point of the Craigo Clan Christmas Eve Supper for the past 40 plus years.
The recipe I use was handed down to me from longtime Beach ND resident, the late Sylvia Eldridge. I'm still using that now-faded handwritten recipe card.
This year, my daughter Velvet Craigo will make the traditional treat for the family.

Here's what you need.
Dough
2 Tablespoons melted butter
1 egg beaten
1 cup warm milk
3 cups flour
1/2 teaspoon baking soda
1/4 teaspoon salt
1/2 teaspoon granulated sugar
Mix all ingredients together And transfer to a floured surface. Knead dough until smooth. Cut dough into 4 equal parts. Shape each portion into a ball. Cover with a towel and let rest about 10 minutes.
Filling
1 medium white onion chopped
1 1/2 pounds lean ground beef
2 tablespoons four
1 teaspoon salt
1/4 teaspoon black pepper
1/8 teaspoon garlic salt
1 teaspoon Worcestershire Sauce
1/2 can cream of mushroom soup
Brown beef and onions. Drain off exceeds fat. Stir in remaining ingredients and mix well.
Making the Fleischkuekle
One portion of dough at a time, cut the portion in half. Roll each half into about a 7 inch circle and Cut in half again. Put a spoonful of filling in center of dough. Fold dough over meat and shape as if making an egg roll tucking in the ends to seal in the filling, or you can shape it like a fried pie, pinching shut the edges.
Heat vegetable oil to 360 degrees. Cooking about 3 Fleischkuekle at a time, drop the rolls into the hot oil and fry until golden brown. Remove from oil and drain on paper towel.
Serve with sour cream for dipping.
TIPS:
You can make these ahead and freeze until ready to fry – BUT always freeze them on a cookie sheet covered with waxed paper that has been sprayed with non-stick spray. Make sure the Fleischkuekle do not touch or they will stick.