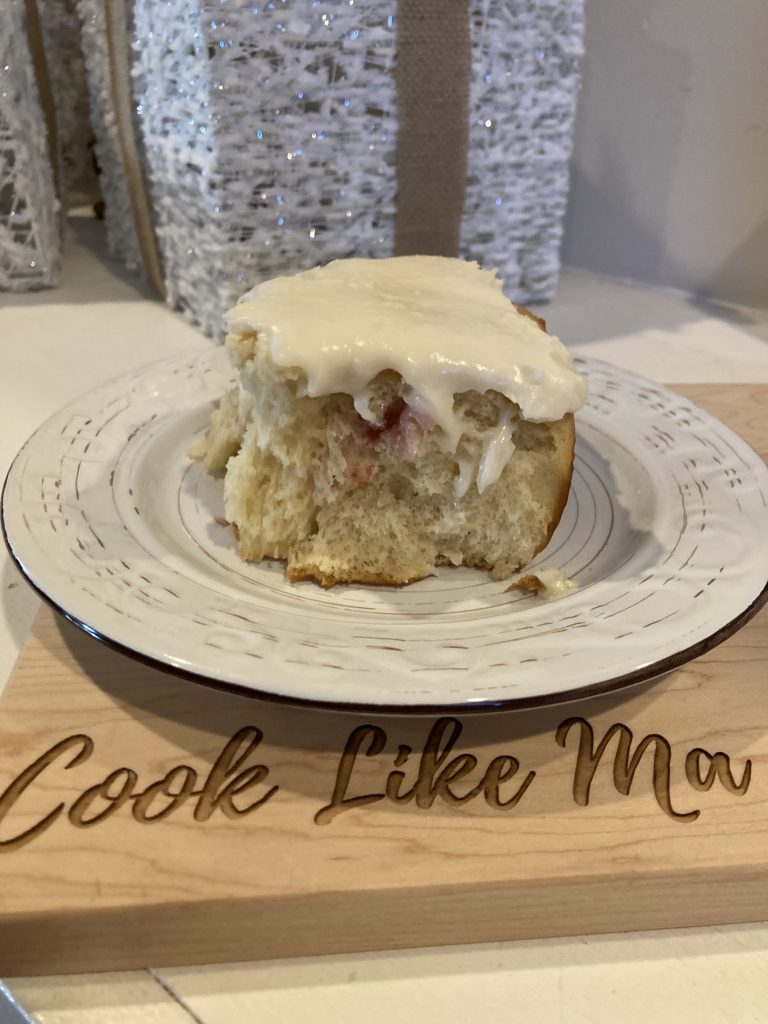 When celebrating my birthday in Red Lodge , Montana this year I found a delicious assortment of Amish foods.
Top of the list was this raspberry sweet roll.
Once I got home I started researching Amish made breads and found the secret to this light and delicate dough.
Instead of all flour they also incorporate donut mix. I also found a few versions that called for instant mashed potato flakes.
This is what I tried today and it was close to perfect. Next time I'll try adding the potato flakes and I'll use a bit more raspberry filling.

1/2 cup brown sugar packed
1/4 cup real butter
1 teaspoon salt
2 cups hot water
2 tablespoons yeast
3 cups flour
2 cups donut mix
1 8 oz block cream cheese
raspberry pastry filling
Place brown sugar, butter and salt in a large mixing bowl. Pour hot water in and stir to melt butter and dissolve sugar and salt. When it cools to warm stir in yeast, flour and donut mix. Mix with a wooden spoon to blend. The dough will be sticky. Set in a warm place and let it raise until double.
Turn out onto a floured surface. Sprinkle dough with just enough flour to work it until smooth. Roll the dough out as if for a jelly roll.
Microwave the cream cheese just long enough so that it is easy to spread and spread over entire dough. Top the cream cheese with a layer of raspberry filling. Roll the dough like a jelly roll and cut off 12 one inch slices.
Line a 9×13 baking pan with parchment paper and then spray with non-stick spray. Place rolls in the pan and let raise til double.
Bake in a pre-heated 325 degree oven for 25 minutes.

When completely cool, liberally ice with butter cream frosting.
Butter Cream Frosting
1/4 cup melted butter
1.4 cup evaporated milk
1 1/2 teaspoon salt
3 cups powdered sugar
1 1/2 teaspoons vanilla
Mix all ingredients together and then beat with an electric mixer until smooth.
TIP
I found the donut mix on Amazon but I'm going to figure out how to make my own next time. I'll do an update when I do.