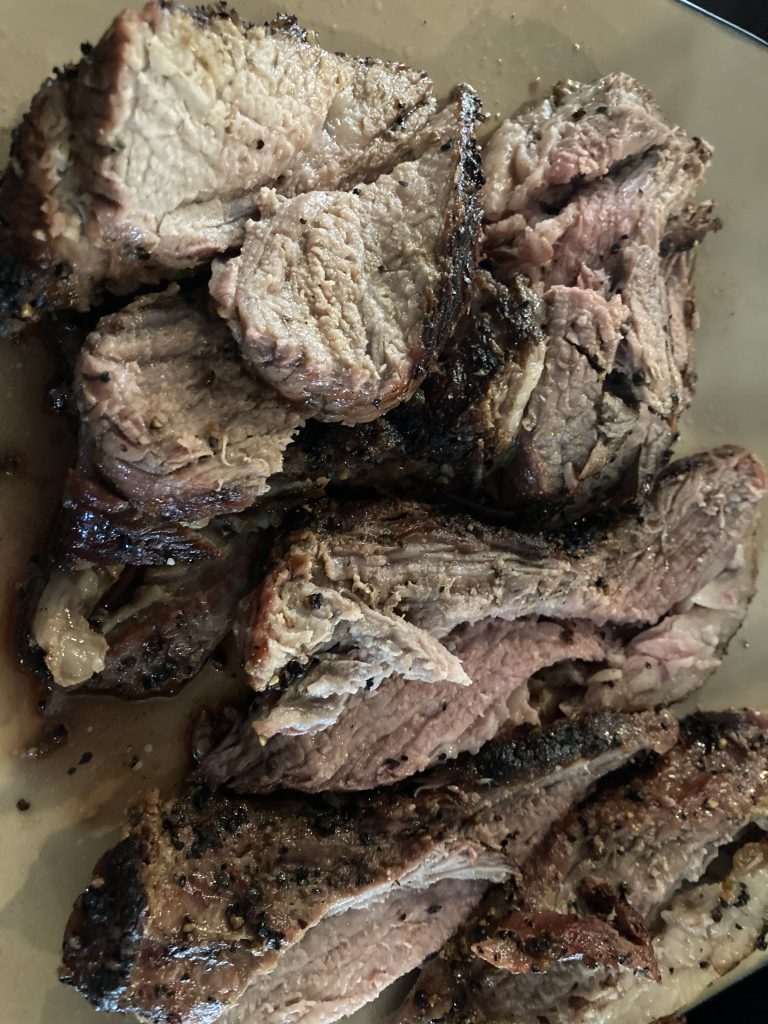 The tri-tip is a triangular cut of beef from the bottom sirloin. It's best prepared grilled or smoked.
Today I grilled this one and it was delicious. I served it with creamy horseradish and multi-color roast fingerling potatoes on the side.
I did the potatoes in the air fryer.
To prep a tri-tip trim away the silver skin. Most tri-tips have a thick layer of fat. You can trim the fat but leave a good amount for a natural basting of the meat.
Pat meat try with a paper towel. Apply a thick coating of corse ground black pepper to all sides of the meat. Sprinkle with fresh ground sea salt.
Put a little liquid smoke into a large ziplock bag. Add the meat to the bag, seal and turn a few times to coat a little. Let it marinate in the refrigerator for an hour or overnight.
When you are ready to grill turn the grill on high to heat the surface. Once hot add the meat and turn burners to low. Grill with lid closed for 12 minutes. Turn the meat over and place on the upper rack of grill. Let rest in the grill (burners still on) for another 12-14 minutes. Once the meat is grilled remove from heat and let rest wrapped in tin foil.
Potatoes
In a mixing bowl combine 2 tablespoons olive oil, fresh rosemary and salt and pepper. Add potatoes and stir to coat. Heat the air fryer with basket in place to 400 degrees. Place the potatoes in the basket and air fry for 3-6 minutes until tender.