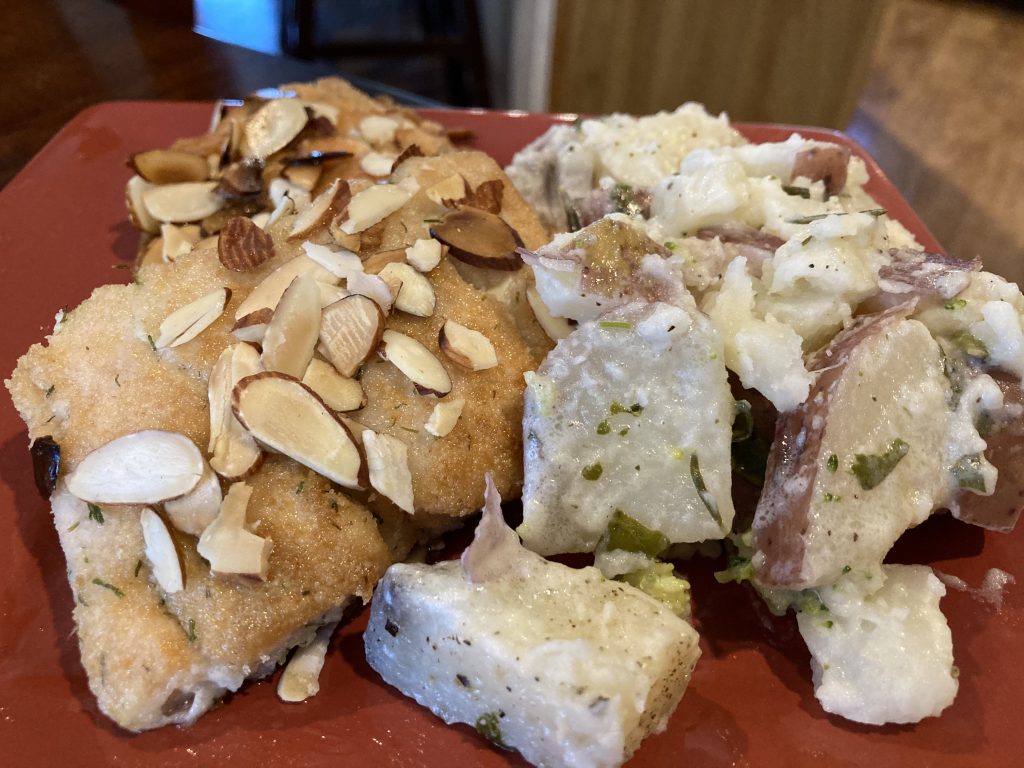 Salmon is rich in long-chain omega-3 fatty acids, which have been shown to reduce inflammation, lower blood pressure and decrease risk factors for disease.
Plus all of that it's delicious. This time of year I like to cook with lots of fresh herbs. I grow them in a planter box in our back yard. It's easy to snip off what you need. Always cut your herbs with sharp, clean scissors or clippers. This prevents plant damage and promotes the growth of the plant. Cutting the herbs encourages healthy growth.
Salmon
4 small salmon filets
1/2 cup finely ground cracker crumbs (I prefer crumbs from Nuts.com)
1 teaspoon fresh cut dill or dried dill
1/4 cup avocado or olive oil
1/2 cup sliced almonds toasted
lemon juice
Toast almonds on a piece of tin foil in a toaster oven or conventional oven. Set aside.
In a zip lock bag combine cracker crumbs and dill. Pat dry the filets with a paper towel. Add fish to cracker crumbs and coat.
Heat oil on medium high heat. Add filets to hot oil and cook for 4-5 minutes on each side. Top with toasted almonds.
Serve drizzled with lemon juice.
Herbed Red Potatoes
4 medium size red potatoes
Fresh cut basil, oregano and dill chopped
2 tablespoons real butter
1/4 cup heavy cream
Fresh ground sea salt and course ground black pepper to taste
Cut unpeeled washed red potatoes into cubes. Boil in water until tender the potatoes and herbs. When potatoes are tender drain off water. Add butter and cream. Season to taste with salt and pepper.