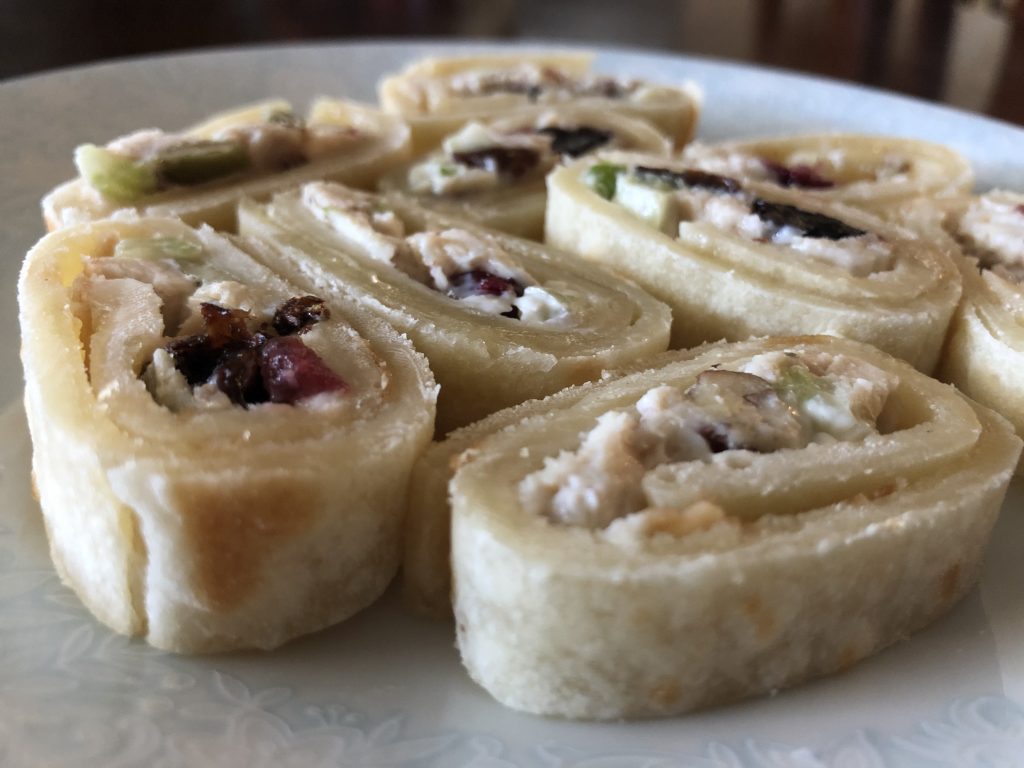 Homemade chicken salad wrapped in homemade flatbread and sliced into bite size pinwheels makes a great appetizer to add to any buffet.

Flatbread
2 cups flour
1 teaspoon sea salt
3/4 cup milk
3 1/2 tablespoons real butter
Place flour and salt in the bowl of a stand mixer. Attach the bread hook attachment. Measure milk in a Pyrex measuring cup and add butter. Microwave milk and butter just until butter starts to melt. Add to flour and salt. Mix and knead with bread hook until dough is smooth. About 10 minutes. Turn out onto a floured surface and shape into a ball. Wrap dough in plastic wrap and let it rest for 30 minutes.
Divide dough into fourths. Roll each portion into a 7-8 inch circle. Heat a shallow sauté pan or crepe pan on medium heat. Spritz with olive oil. Add dough to heated pan. It only takes a few minutes until bubbles appear in the dough. Turn over and cook on other side.
Stack the prepared flatbread one on top of another separated by paper towel. Set aside while you make the chicken salad.
Chicken Salad
1 1/2 cups cooked skinless, boneless chicken breast (cut in small pieces)
1 green onion chopped including white and green
1 celery stock finely chopped
1/3 cup craisens
1/3 cup chopped pecans
Real mayonnaise a little at a time
sea salt and ground red pepper to taste.
Mix together first 5 ingredients. Gradually add mayonnaise until you have the consistency you like. Season and mix well.
Assemble
Lightly coat each flatbread with mayonnaise. Spoon chicken salad onto one end of flatbread. Beginning with the filled end, roll the bread into a tight cylinder. Place seam side down and wrap each roll in plastic wrap. Chill for at least and hour. It's find to make them the day before and refrigerate overnight.
To serve cut each roll into bite size pinwheels and arrange on a platter.