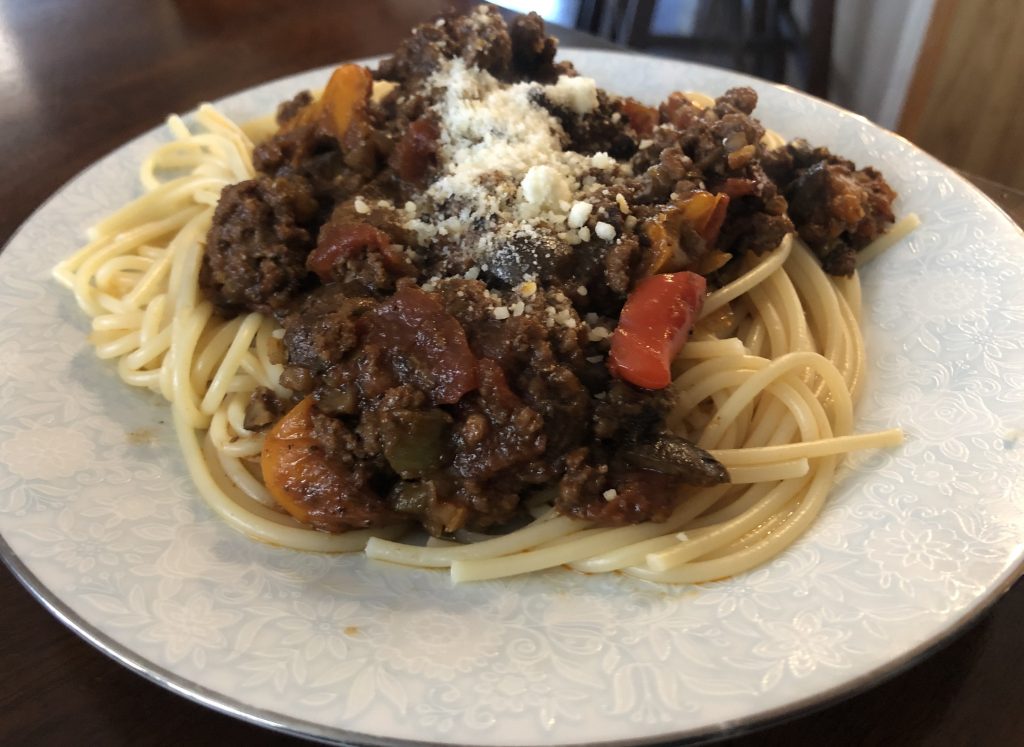 I like to make my own homemade spaghetti sauce. I am not a fan of any type of jarred sauce. The time it takes to make fresh spaghetti sauce and simmer it on low for a few hours is well worth the effort and the time. Fresh is always better.
In a 6 quart Dutch Oven brown 1 pound lean ground beef. I use no more than 15% fat content. Brown with the beef 1 each ; small chopped green bell pepper, small red chopped bell pepper, small chopped white onion. When meat is browned drain off any excess fat.
Add about 10-12 brown mushrooms sliced, 1 14oz can diced tomatoes, 1 8oz can tomato sauce, 8 oz water, 1 14oz can of ripe black olives chopped, all olive juice from can and 1 tablespoon fresh chopped garlic.
Season with 1 teaspoon spicy sea salt, 2 tablespoons chili powder, 1 tablespoon hot paprika, 2 tablespoons Italian Seasoning, 1 tablespoon onion flakes.
Stir well to blend flavors. Cover and simmer on low for several hours. Sauce will thicken as it simmers.
Serve over spaghetti noodles prepared per package direction. Sprinkle sauce with fresh grated Parmesan cheese.
TIPS:
If sauce gets too thick add water and continue to simmer until you have desired thickness.
If you don't have fresh garlic, substitute refrigerated chopped garlic.
Don't be afraid to taste test. Add more of any ingredient to taste.