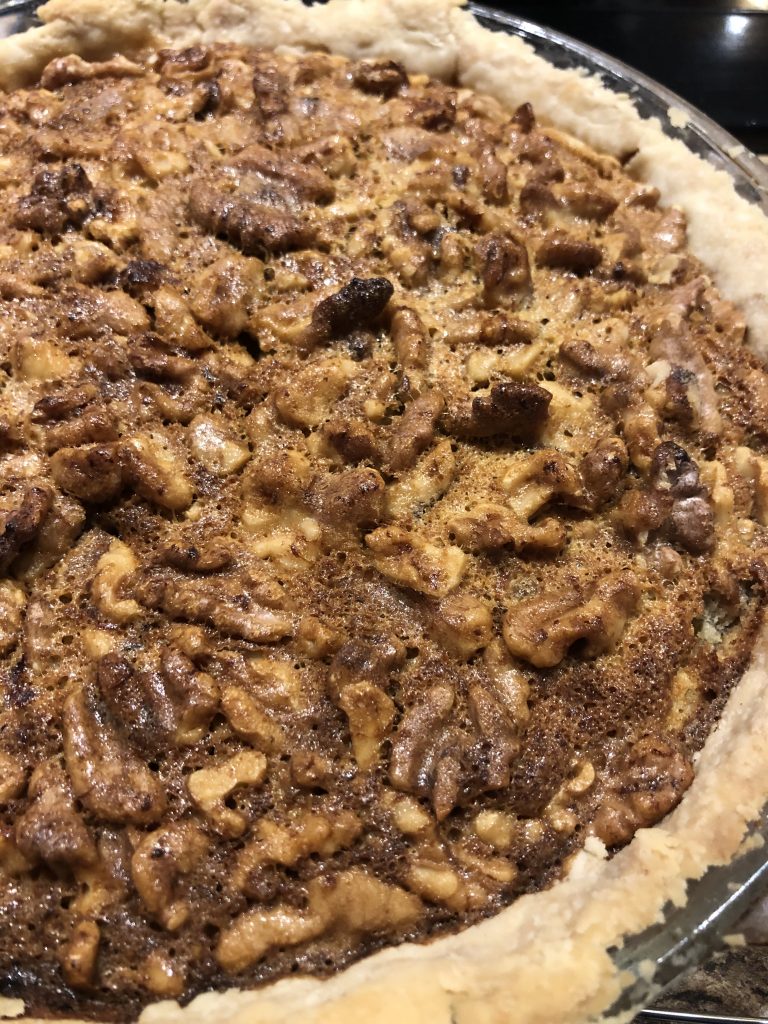 I grew up in a family that grew English Walnuts. So as much as I love pecans, it is always Walnut Pie I make for Thanksgiving.
Since my dad, Jim Bowden was the last in the line of walnut producers, my sister Ann and I finally sold the orchard after he was gone.
This is the first year in my whole life that I've had to purchase walnuts. I will say for sure they are not the same as our walnuts.
When we made our Pies in November, be assured we were using walnuts just harvested in October. There is no comparison, but you do what you have to do.
Crust:
1 cup flour
1/3 cup Crisco
1 teaspoon salt
3 serving spoons water
Cut Crisco into flour with a fork, add salt. Add water one spoonful at a time. Mix in water from side of bowl to center after each spoonful. Finish mixing with your hands. Shape into a ball and place on a floured surface. Sprinkle with flour as you roll it out into a 14 inch circle.
Spray a deep dish pie plate with nonstick spray. Place crust in pie plate. Line inside of crust with tin foil and weight with dry beans. Place in a preheated 350 degree oven for 10 minutes. Remove from oven and remove foil and beans. Set aside.
Filling:
1 cup light corn syrup
1/2 cup sugar
3 large eggs
2 Tablespoons melted unsalted butter
2 Tablespoons brandy
1 1/2 Tablespoons flour
1 teaspoons Vanilla
1/4 teaspoon salt
2 cups walnuts
Put 1 cup of walnuts in bottom of pie crust. Beat all remaining ingredients together and pour into shell. Place tin foil or silicone pie shield on edges of crust. Place in a preheated 350 degree oven for 55 minutes. Remove from oven and cool completely. Serve with whipped cream topping.