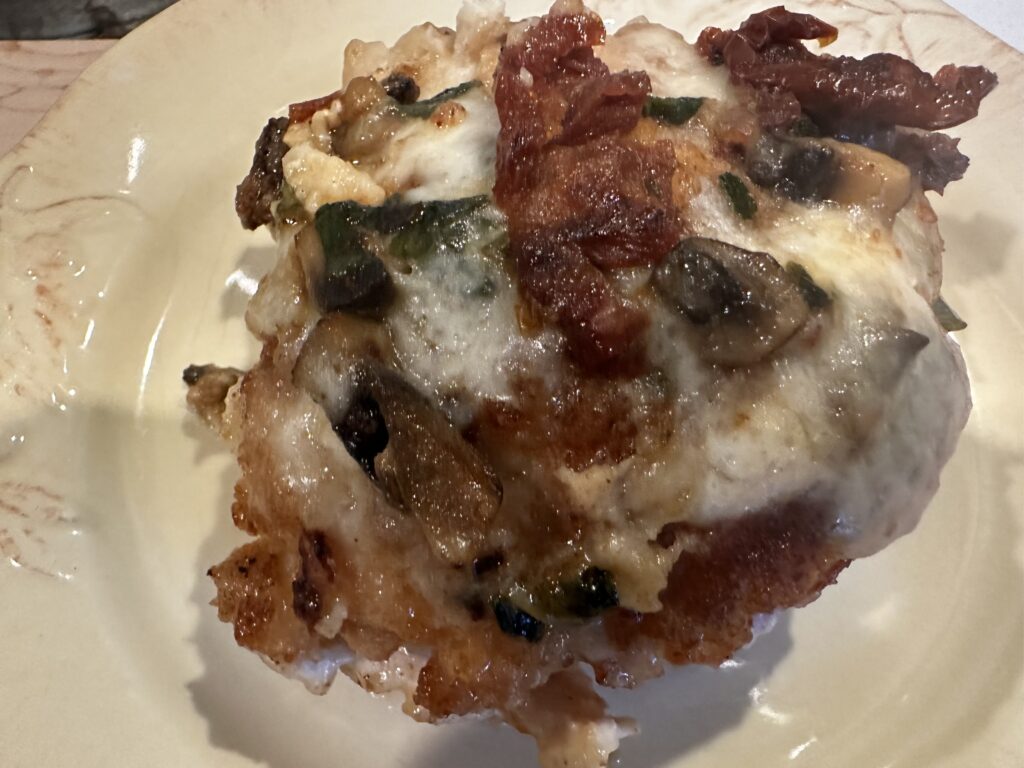 These stuffed chicken breasts are simple to make and are a satisfying twist on chicken.
Here's what you'll need.
4 large tenderized, boneless, skinless chicken breasts
4 slices deli ham
2 tablespoons real butter
4-6 chopped crimini mushrooms
1 chopped green onion
1/2 cup chopped fresh spinach
1/4 cup chopped sun-dried tomatoes (in oil and water)
Shredded Mozzarella cheese to taste.
1/4 cup flour
1/4 cup bread crumbs
Extra Virgin Olive Oil
1/2 cup Chicken Broth
Water as needed
Pat chicken dry with a paper towel. Tenderize chicken and then dry again.
In a deep sauté pan melt butter and sauté vegetables. Add a little of the oil and water from the tomatoes and sauté until tender
Top each chicken breast with a ham slice, top with vegetables and desired amount of cheese.
Carefully roll breast and secure with a toothpick.
On a dinner plate mix together flour and bread crumbs. One at a time, placed rolled breast on flour mixture. Spoon flour mixture over each breast to entirely coat.
Heat oil in a large skillet and carefully place each breast in the oil. Brown on medium high heat and then carefully turn each breast over.
Reduce heat, cover and let slowly cook through. As liquid begins to leave the pan add chicken broth, cover and continue to simmer until fully cooked. Add water as needed if it becomes too dry . Top with leftover vegetables and cheese. Cover and simmer until cheese melts.
Serve hot. Serves 4.