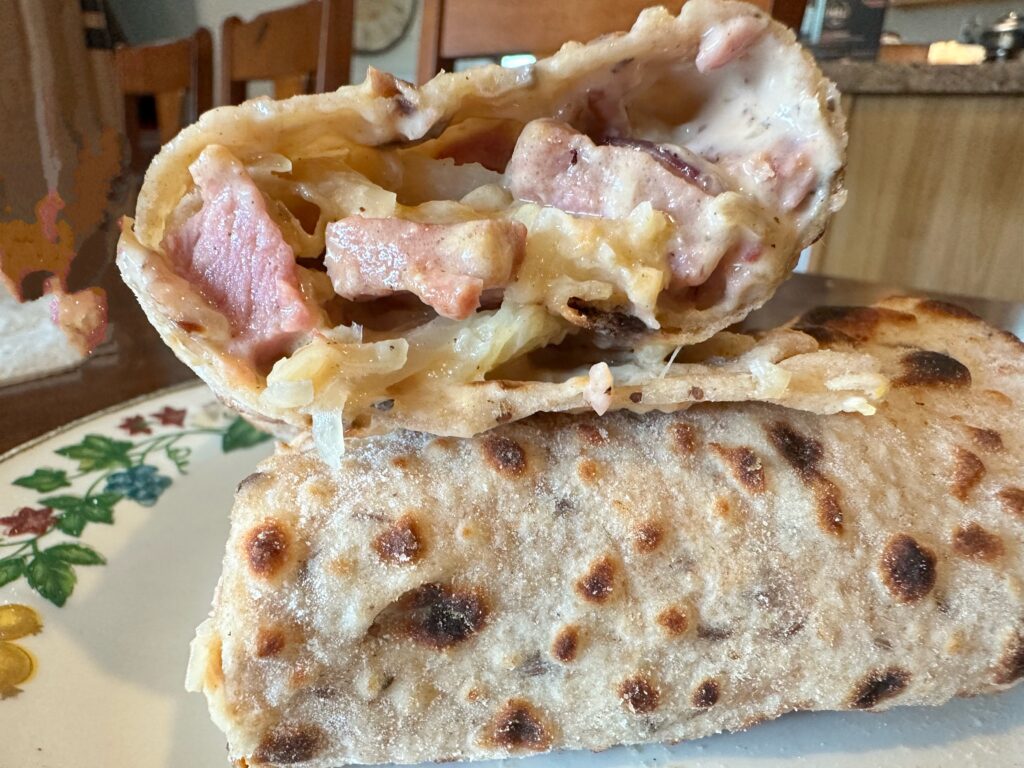 This is a great way to use leftover corned beef and cabbage.
Heres what you'll need.
Leftover cooked corned beef
Leftover cabbage cooked with corned beef
1/4 thinly sliced red onion
1 tablespoon butter
Caraway Rye Flatbread (recipe below)
Shredded cheddar jack cheese
Thousand Island Dressing
Melt butter in a skillet. Sauté onion until tender. Cut cabbage and corned beef into bite sized pieces and add to onions. Heat through. Reduce heat. top with shredded cheese and put a lid on the pan. Let cheese melt.
Warm the flatbread for a few seconds in the microwave to make it pliable. Spread each piece of flatbread with a generous amount of thousand island dressing. Place desired amount of meat mixture on one edge of flatbread. Gently roll. Serve warm.
Note
If you do not have enough, leftover cabbage, you may substitute, sauerkraut .
Flatbread
In a stand mixer with bread hook attachment in place mix 1 1/2 cup lower carb flour, 1 cup rye flour and 1 tablespoon caraway seeds. Stir in 1 teaspoon salt and 1 teaspoon natural yeast (optional). In the microwave heat 2 cups greek yogurt. Add to flours and knead my machine for 10 minutes.

The dough will be sticky. Turn onto a floured surface. Sprinkle with a little more flour. Shape the dough into a large ball. Wrap in saran wrap, and let rest for about 15 minutes.
Cut dough ball in half. shape each half into eight equal sized balls.
Flatten each ball and roll into about a 7 inch .
Heat a crêpe pan and sprinkle with olive oil. Once pan is heated, place a flatbread on the pan, cook for a few seconds and turn over for another few seconds. This doesn't take long. Repeat with each flatbread. You will need to add more olive oil to the pan as you finish each flatbread.
NOTE
You can use bottled thousand island dressing, but homemade is better . Just mix real mayonnaise and ketchup together. Stir in on chopped hard cooked egg and a dash of lemon juice. Add 1 teaspoon sweet pickle relish and salt and pepper to taste. Mix well.