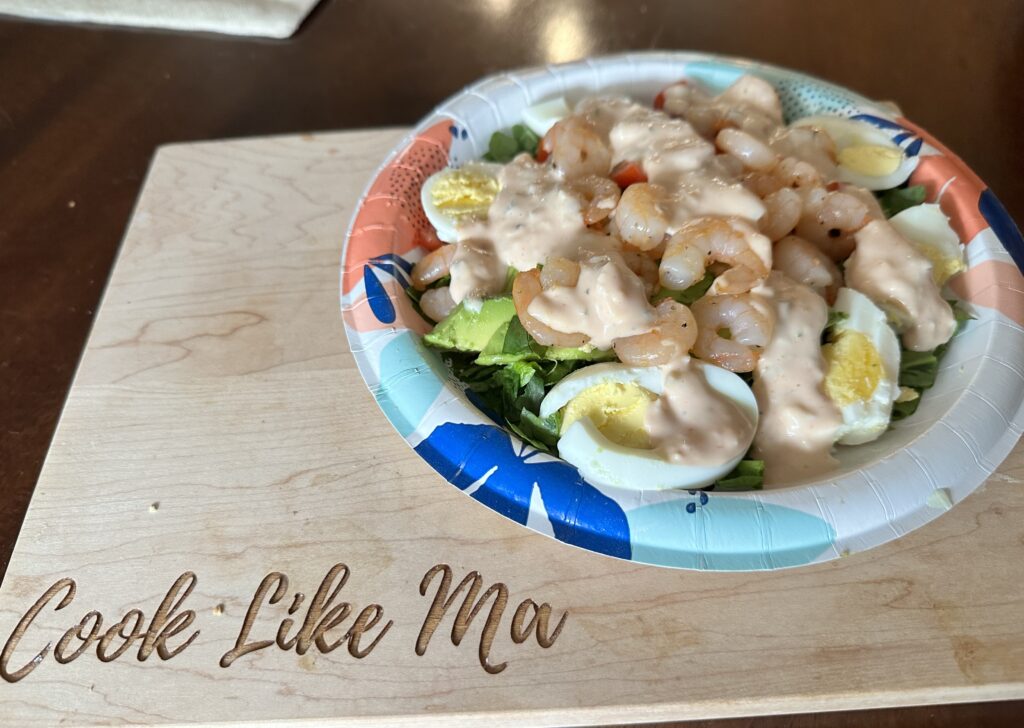 A summertime favorite is shrimp salad. This version with grilled shrimp and homemade Thousand Island is especially good.
Here's what you'll need.
12 oz bag of cooked salad shrimp
2 tablespoons olive oil
salt and pepper to taste
4 hard cooked eggs
1 large ripe avocado
8 grape to tomatoes
2 cups finely chopped fresh spinach
1 cup real mayonnaise
1/4 cup catsup
1 teaspoon lime juice
2 tablespoons sweet pickle relish
salt and pepper to taste
Pre-heat air fryer at 390 degrees. Pat shrimp dry with paper towel. Drizzle olive oil over shrimp. Season to taste with fresh ground sea salt and coarse ground black pepper. Gently turn with spatula to coat shrimp. Place in the air fryer and process for 15 minutes. Turn over halfway through.
Chop spinach and tomatoes. Slice 3 hard cooked eggs. Peel and slice avocado.
Dressing
Finely chop one egg. In mixing bowl, combine mayo, catsup, relish and egg. Blend well and stir in lime juice and salt and pepper to taste.

To assemble salad (makes 2) place spinach on plate. Top with tomatoes, avocado slices and shrimp. Arrange sliced eggs around edges.
Dress with Thousand Island dressing.
Note:
Take the few minutes it takes to make the dressing. It is far better than bottle dressing.