This chicken bake is similar to an enchilada but without the heat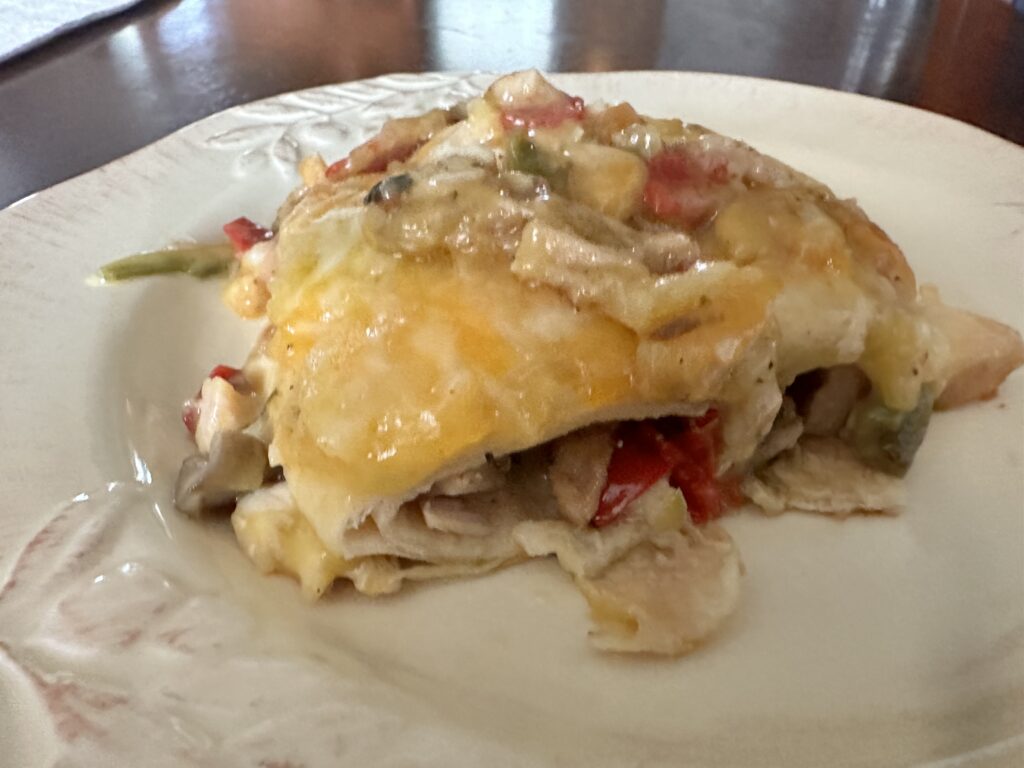 Here is what you'll need.
2 cups chopped rotisserie white meat chicken
2 strips bacon
4 brown mushrooms chopped
4 multicolored peppers chopped
2 small sweet peppers chopped (optional)
1/4 cup chopped leeks
1/2 cup chopped fresh spinach
1 cup chicken broth
1 can cream of mushroom soup divided
sea salt and coarse ground pepper to taste
6 small flour carb balance tortillas
Desired amount shredded Mexican cheese
Cut bacon into tiny pieces and brown in a deep skillet . Add all chopped vegetables and continue to sauté until tender. Add chicken broth and continue to heat.

Spray a medium size square baking dish with with non stick spray. Combine 1/2 can soup and 1/3 cup chicken and vegetable in baking dish and spread on bottom of dish.
Heat tortillas in microwave for about 20 seconds to make them pliable. Using a slotted spoon add sone of chicken mixture to each tortilla and roll as an enchilada . Arrange in a single layer in baking dish. Add remaining soup to remaining chicken mixture and heat to dilute soup. Pour over enchiladas. Top with desired amount of cheese. Cover and bake at 350 degrees for 25 minutes. Remove cover and continue baking for an additional 10 minutes. renove from oven and let rest for 10-15 minutes before serving .