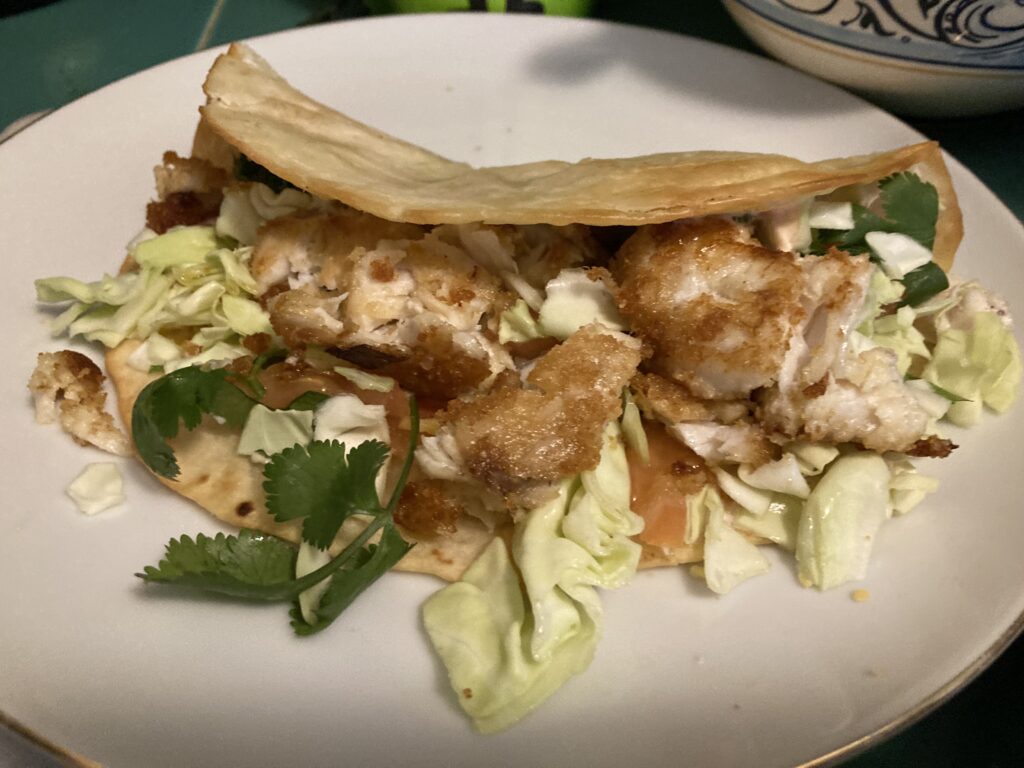 Taste Tester Tom and I are in Oceanside Ca for a month. One of the things we're enjoying most is the abundance and availability of fresh fruit, vegetables and fish.
One of our favorites is Sea Bass. This week we were able to purchase it fresh catch. First we did a grill/bake with caper butter ( former recipe at www.cooklikema.com).
Today I used the leftovers to make delicious fish tacos.
Here's what you'll need.
Carb Balance flour tortillas
Leftover sea bass
Olive Oil
Fine cracker crumbs – I use Nuts.com brand
1/4 cup real mayonnaise
Mild chunky salsa
Chopped white onion , tomatoes, cilantro and cabbage
Shedded cheddar/jack cheese
Sea salt to taste
Lemon juice
Cube leftover fish. Drizzle with olive oil and sprinkle with cracker crumbs. Coat well. Place on a hot griddle or cast-iron skillet. Drizzle on a little more olive oil and sea salt. Brown until outside is crispy. Pan fry tortilla in olive oil and fold over in a paper towel.
Mix together mayonnaise and salsa. Spread onto prepared tortilla. Top with cheese, vegetables and fish.
Serve with salsa and lemon juice to taste.
Note: This dish is within the low carb realm. Enjoy!