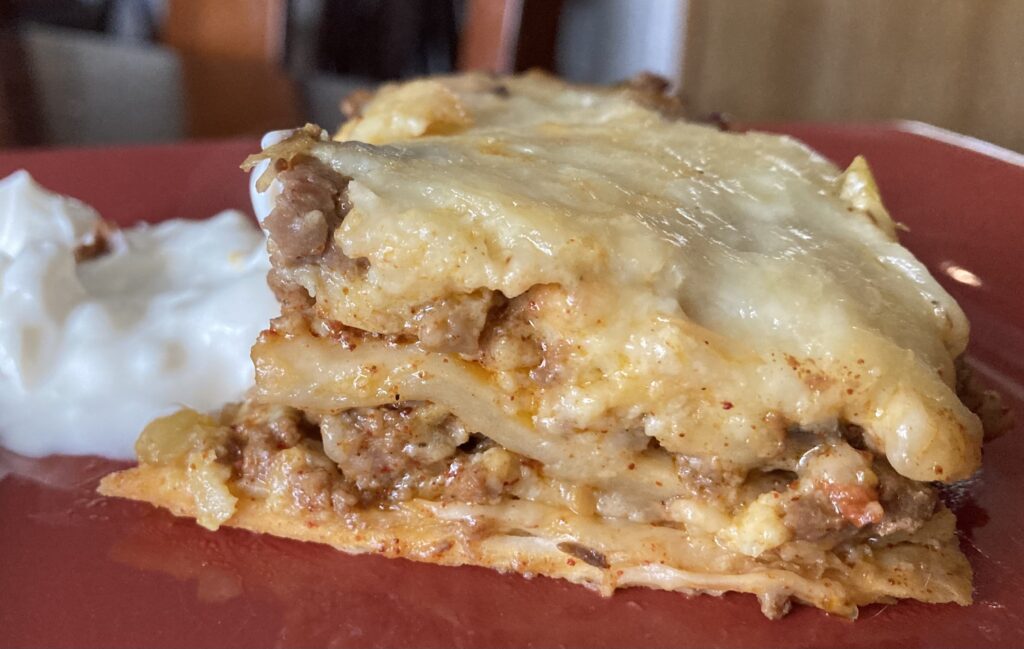 This is a simple layered hot dish that is tasty and low carb.
Here's what you'll need.
4 Carb Balance Flour Tortillas
1 lb lean ground beef
3 chopped green onions
1 chopped jalapeño (remove seeds and membrane)
2 tablespoons chopped garlic
2 tablespoons taco seasoning
Salt and pepper to taste
6 small ripe tomatoes (finely chopped in food chopper or processor)
1 cup water
1 egg
1/2 cup heavy cream
1 cup shredded Colby Jack cheese
1/2 cup shredded mozzarella
Olive Oil
In a frying pan brown beef, onions and jalapeño. Drain off excess fat and return meat to pan. Stir in garlic, seasonings and tomatoes. Add water and simmer to thicken.
Spray a deep dish baking dish with non-stick spray. Line dish with 2 tortillas. Spray with olive oil. Spoon half of beef mixture over tortillas. Place remaining 2 tortillas over meat. Spray with olive oil and then spoon on remaining meat mixture.
Whip together, egg, cream and Colby Jack cheese and pour evenly over meat. Top with mozzarella.

Cover and bake in a 350 degree pre-heated oven for 40 minutes. Turn off oven. Remove cover and leave in oven for an additional 5 minutes to lightly brown cheese. Remove from oven and let rest for 5 minutes before slicing into squares. Serve garnished with sour cream.
TIPS:
I like to make my own taco seasoning. The flavor is far better than packaged seasoning. Mix together: 1 teaspoon ground black pepper ½ teaspoon ground paprika ¼ teaspoon garlic powder ¼ teaspoon onion powder ¼ teaspoon crushed red pepper flakes ¼ teaspoon dried oregano. I double this recipe whenever I make it so I can have it on hand as needed.