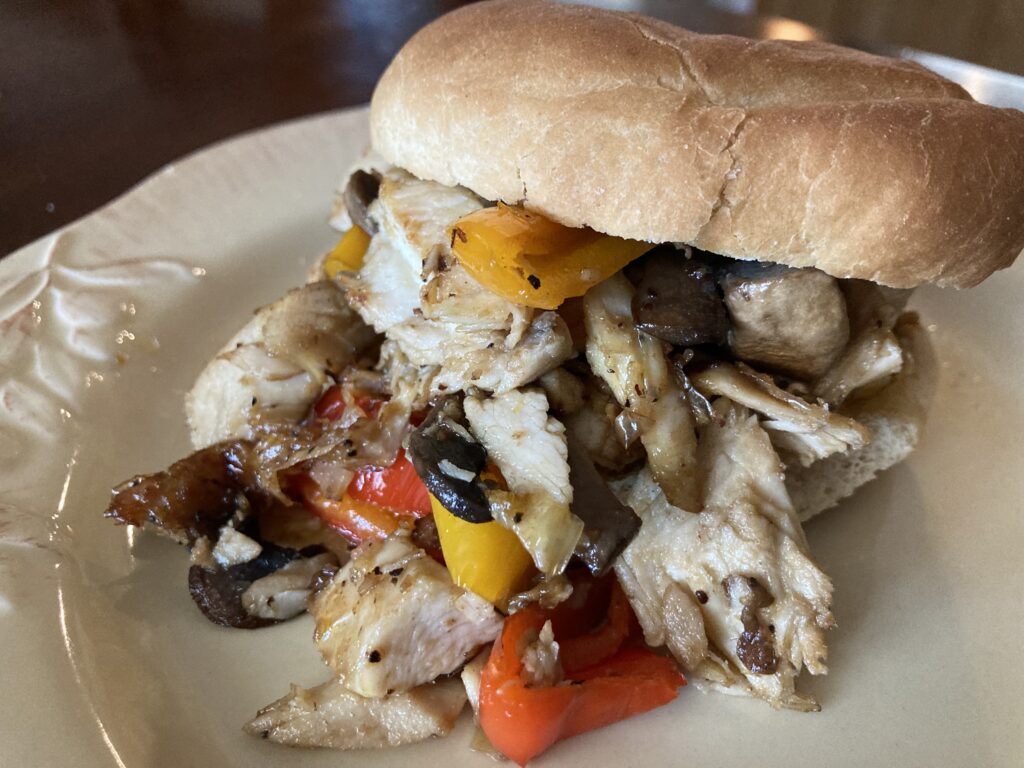 This sandwich is overflowing and eat-it-with-a-fork good. It's full of flavor enhanced by truffle flavored extra virgin olive oil. Amazing!
Heres what you'll need.
2 cups thinly sliced roasted chicken breast
2 tablespoons real butter
1/4 cup thinly sliced leeks
4 red/yellow mini peppers sliced
6 brown mushrooms sliced
fresh ground sea salt and coarse ground pepper to taste
2 table spoons truffle flavored extra virgin olive oil
4 slices fresh mozzarella cheese
4 of your favorite buns
butter for spreading

In a large sauté pan melt butter, add vegetables and sauté until tender. Fold in chicken. Continue to heat thru on medium heat. Season to taste with sea salt and pepper. Drizzle with truffle flavored olive oil.
Lightly butter buns and toast them in a toaster oven. Before totally toasted place cheese slice on each bun top and continue to toast until cheese is melting.
Divide chicken mixture into 4 equal parts. Fill each bun with chicken. Serve hot with knife and fork.
Yields 4 sandwiches.
TIPS:
Any of your favorite buns will work. i used Keto Hamburger Buns to keep carbs low.