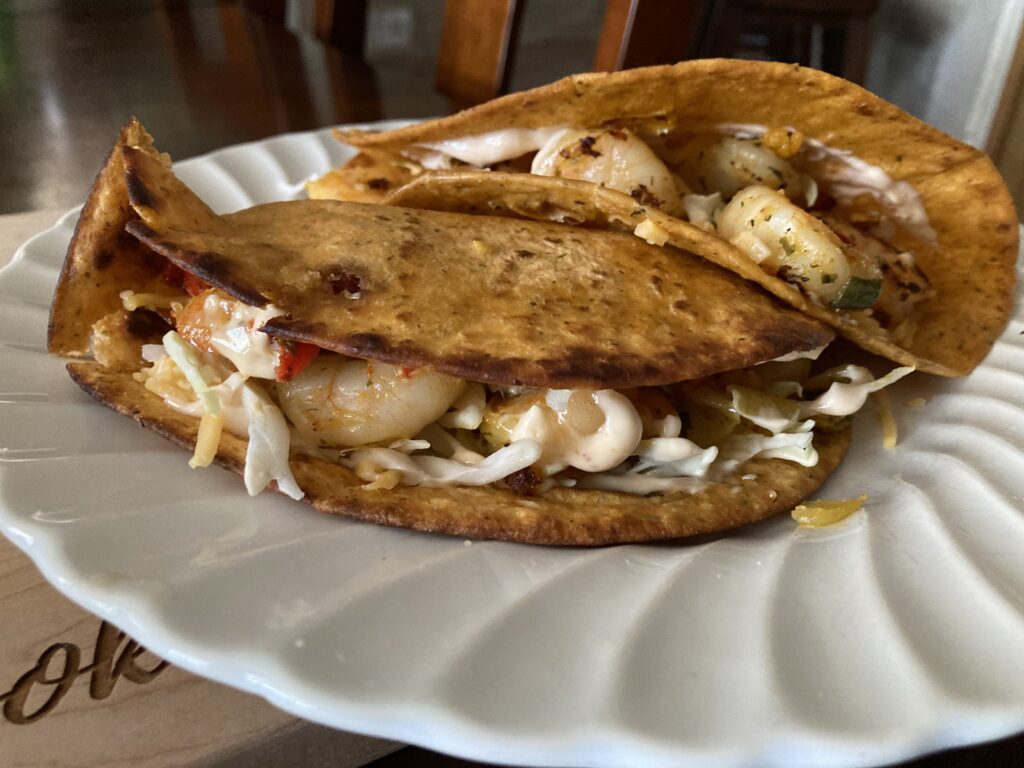 I've been using the Carb Balance tortillas to keep on track with low carb eating. For these tacos I used the tomato basil flavor. This recipe helps you to enjoy the foods you love without putting on weight.
Here's what you'll need.
4 Mission Carb Balance Tomato Basil Tortillas
1/4 cup chopped white onion
1/2 cup chopped red bell pepper
1 small jalapeño chopped. Remove seeds and membrane.
2 doz cooked and cleaned frozen shrimp (thawed)
Olive Oil
1 tablespoon dried cilantro
Spicy sea salt to taste
1/2 cup Real Mayonnaise
1 Tablespoon Sriracha sauce
Lime juice to taste
Shredded cheddar cheese
Shredded cabbage
In a large sauté pan heat olive oil. Add peppers and onions and sauté until tender. Add shrimp, cilantro and seasonings and cook on medium heat to cook off liquid. set aside.
To make the Sriracha/Mayonnaise mix together sriracha and mayonnaise and add a little lime juice.
Using a shallow sauté pan or crepe pan heat olive oil on medium high heat. Brown tortillas on both sides. Remove to a paper towel and fold tortilla in half.
To assemble spread each taco with Sriracha/Mayonnaise sauce. Top with shredded cheese, shredded cabbage and shrimp mixture. Drizzle with lime juice.