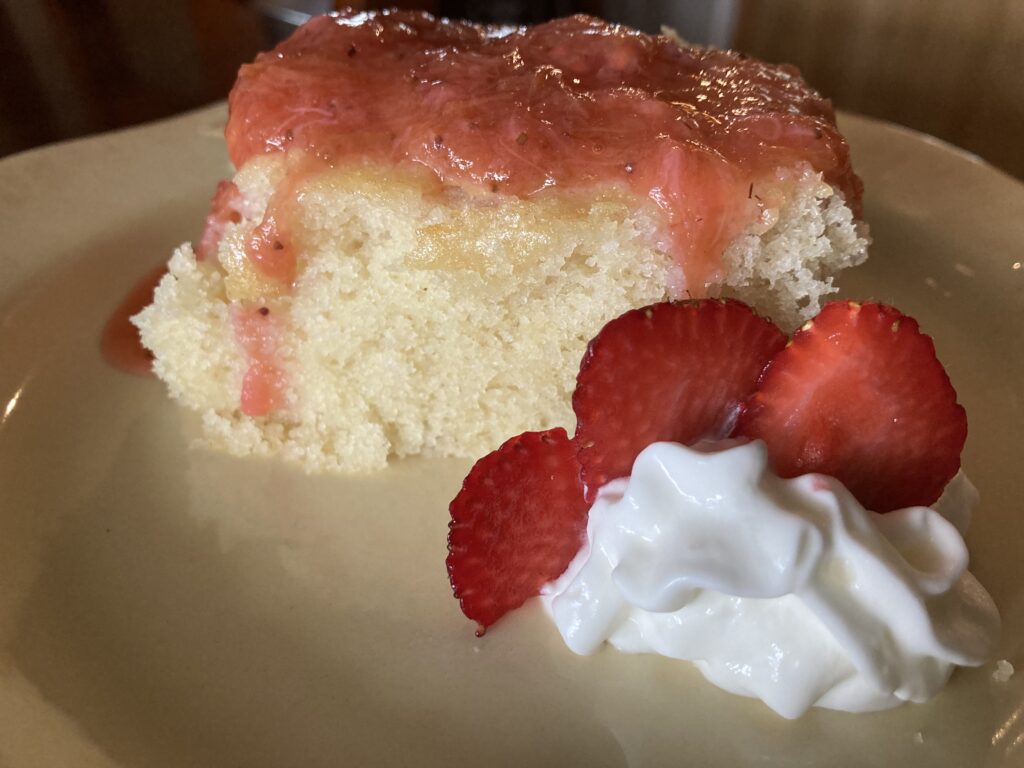 Rhubarb and Strawberries are great right now. Use them fresh or prep for the freezer. Either way works.
Sauce
2 Cups rhubarb washed and cut into small chunks
1 cup sliced strawberries
1/2 cup sugar
1/2 cup water
1 tablespoon lime juice
1 tablespoon corn starch disolved in water
Place all ingredients except cornstarch and water in a sauce pan. Simmer on medium low heat until tender. Stir in cornstarch water mix into sauce. Simmer and stir until it thickens. Set aside.
Sour Cream Cake
2 1/4 cups (315g) all-purpose flour
2 teaspoons baking powder
1/2 teaspoon baking soda
1/2 teaspoon salt
3/4 cup sour cream liquified
3/4 cup whole milk
1 cup butter, softened to room temperature
1 1/2 granulated sugar
5 large egg whites
1 tablespoon pure vanilla extract
Mix flour, baking soda, baking powder and salt in a bowl. Set aside. In a second bowl mix milk and liquified sour cream. Just put the sour cream in the microwave for a few seconds to liquify.
In a stand mixer with paddle beater in place beat together butter, sugar, egg whites and vanilla. Gradually add milk and sour cream.
Mix in flour mixture a little at a time. Mix well but don't over beat.
Spray a 9×13 cake pan with non-stick spray and line with parchment paper.
Evenly spoon batter into prepared pan and bake in a 350 degree pre/heated oven for 30 minutes.
To serve, cut cake in squares and top with sauce. Garnish with whipped cream snd fresh strawberry slices.