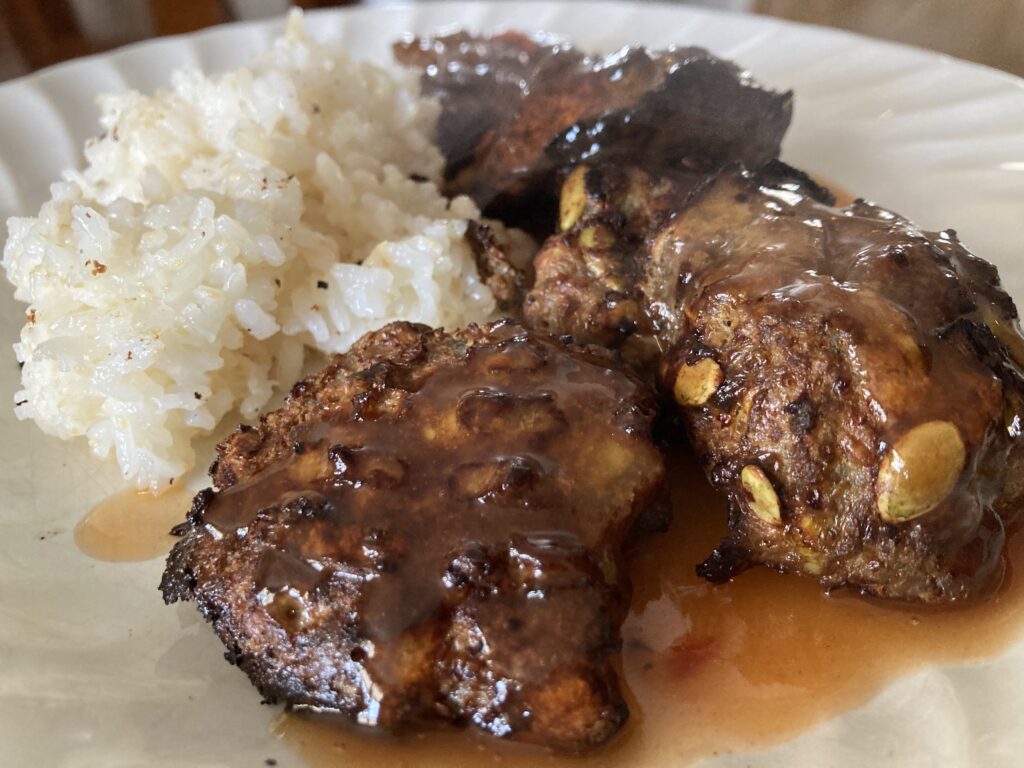 Sticky Rice
MaKe the rice first and set aside to reheat later in microwave.
1 cup Japanese white rice
2 1/2 cup water
1 tablespoon rice vinegar
1 teaspoon violet or Himalayan sea salt
water to soak rice
Place rice in a large bowl and cover with water. Let it soak for 1/2 hour. Using a wire mesh colander drain water from rice. Rinse the rice with cold water.
Place the rice and 2 1/2 cup water in pressure cooker or Instapot. Pressure cook on high for 10 minutes. Carefully release steam. Season with salt and rice vinegar.
Meatballs
1 pound ground beef
1 egg
1/4 cup milk
1/4 cup finely ground crackers
2-3 tablespoons chopped leeks, shallots or onions
1/4 cup shelled roasted sunflower seeds or pumpkin seeds
1/2 teaspoon smokey paprika
1/2 teaspoon spicy sea salt
1/4 teaspoon coarse ground pepper
In a large mixing bowl crumble beef. Add leeks, peppers and seasonings. In a separate bow beat egg and milk together. Add egg and milk and cracker crumbs and seeds to the meat. Use your hands to combine and then shape into desired size meatballs.
Set the air fryer to 400 degrees and preheat, with basket in for a few minutes. Place meatballs in the basket and air fry with lid closed for 14 minutes. Remove from fryer.
Orange Sauce
Make the orange sauce while meatballs are cooking.
1 cup water
1 cup orange juice
1 cup white vinegar
1 cup brown sugar
1 table spoon soy sauce, ginger sauce or Aminos
2 tablespoons corn starch
4 tablespoons water
In a sauce pan mix water, juice, vinegar sugar and water. season with soy sauce, ginger sauce or aminos. Bring to a low boil over medium heat. Make a slurry of corn starch and water and stir into sauce. Simmer until it thickens.
Spoon sauce over meatballs and serve with sticky nice on the side. Yum!