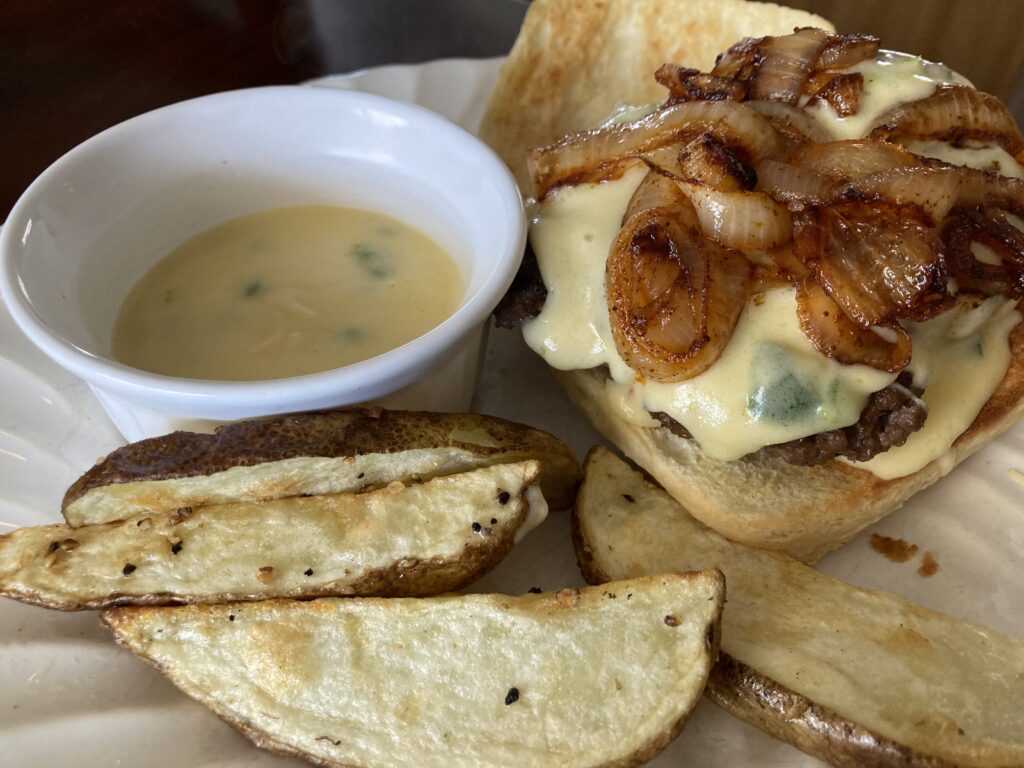 Day 4 of 2022 North Dakota Blizzard confinement. Actually the worst has passed and its time to dig out.
Today I made hamburgers on ciabatta buns topped with homemade jalapeño cheese sauce and pan grilled onions.
As a side I prepared air-fryer JoJo potatoes.
Jalapeño Cheese Sauce
1 fresh jalapeño with seeds and membrane removed. finely chopped
1 tablespoon butter
1 tablespoon flour
1/2 cup heavy cream
1/2 cup water
1 cup shredded cheddar jack cheese
In sauce pan melt butter and add jalapeños. Sauté until tender. Stir in flour to coat peppers .Stir in cream and water and heat. Stir in cheese. Continue to stir until cheese melts. Remove from heat and set aside.
Grilled Onions
1/2 large white onion thinly sliced
1 tablespoon butter
Smokey paprika
Fresh ground sea salt
In a sauté pan on medium heat melt butter and add onions. Cook low and slow until onions are tender. Season to taste with paprika and sea salt. Remove from heat and set aside.
JoJo Potatoes
2 medium sized russet potatoes
olive oil
sea salt
coarse ground black pepper
ice water
Wash unpeeled potatoes and cut into fat fries.
Place potato pieces in ice water bath for at least 20 minutes .
Drain snd pat dry potatoes with a paper towel. Drizzle potatoes with olive oil snd stir to coat. Add salt and pepper and stir to coat.
Heat air-fryer to 380 degrees. Arrange potatoes in a single layer in basket. Process for 20 minutes turning potatoes over once after first 10 minutes. Serve with jalapeño cheese sauce for dipping.
Hamburgers
1 lb hamburger
Fresh ground sea sslt
Course ground black pepper
Shape 4 quarter pound burger patties. Top with salt and pepper on both sides and then sear each side of burgers in a hot cast iron skillet. Reduce heat and cook 6 minutes on each side of burger. Toast buns.
Build Your Burger
Slowly reheat onions and cheese sauce on low heat. Don't microwave.
Place burgers on buns. Top with sauce and onions.
Serve with JoJos and additional sauce for dipping.