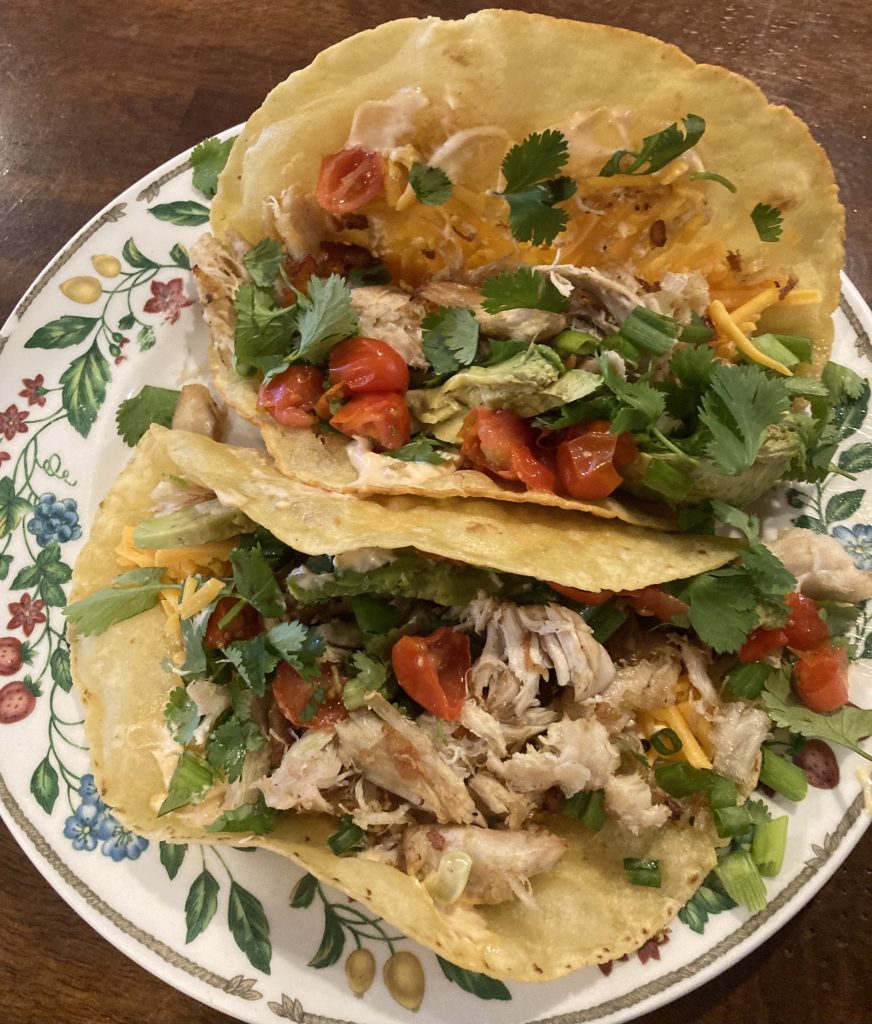 Waste not want not. I've always made the most of what I had, and I've made the effort to stretch a meal into two or more meals.
After we enjoyed our airfryer Turkey breast last week I boiled down the carcass and picked off all of the good meat. I cut into little pieces snd then froze it in a seal a meal bag.
Today I used the turkey for tacos. Delicious!
Here's what you need.
Leftover turkey
Crisp fried bacon cut in small pieces
Real butter
Vegetable oil
Golden blend tortillas
Cilantro
Diced Tomatoes
Chopped Green Onions
Shredded Cheddar Cheese
Sliced Avocado
Lime Juice
Sauce made from mayonnaise, sriracha and lime juice
Melt butter in a large sauté pan. Add turkey and bacon. Sauté together until heated through and turkey becomes a little crispy on on the edges. Season with salt and pepper to taste. Set aside.
In a separate sauté pan heat oil. Fry tortillas on medium high heat. Turn to brown on both sides. Place between paper towels and fold in half.
For each taco, spread the sauce on the inside of shell. Top with cheese, turkey/bacon mixture, onions, cilantro, tomatoes and sliced avocado. Drizzle lime juice over the top.
TIPS:
I use the Golden blend tortillas for tacos. They are a mixture of both flour and corn.
When making the sauce mix about 1/2 cup mayonnaise with sriracha sauce and lime juice to taste.
I pre-cook bacon in the airfryer and then freeze it in a seal a meal bag. I always have it on to hand to use as needed.