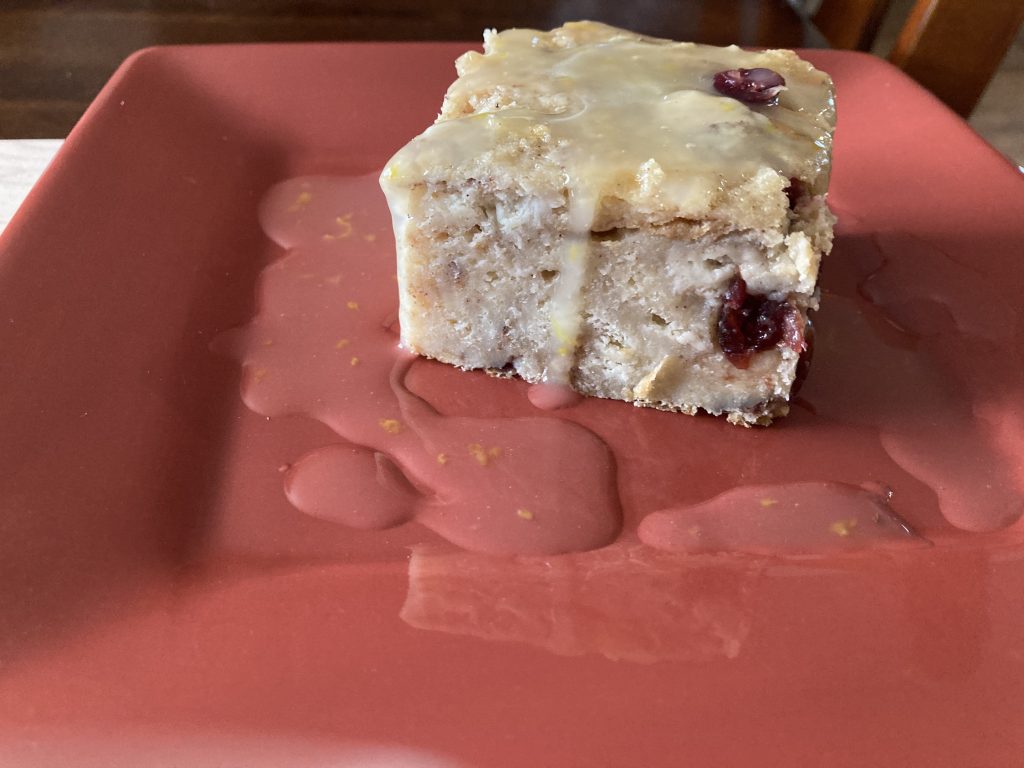 This bread pudding is a combination of sweet and tangy. Instead of dried bread I used left over sweet rolls.
Here's what you'll need
1 doz cinnamon rolls or Carmel rolls
1/2 cup sugar
4 eggs
2 cups milk
1 tablespoon vanilla
craisens (optional)
Tear apart rolls and let dry out overnight. In a mixing bowl whisk together eggs and milk. Place rolls in a large bowl and pour milk/egg mixture over bread. Stir in remaining ingredients and mix well. Spray a 8×13 pan with non stick sparky. Pour bread mixture into pan and bake in covered in a 350 degree oven for 45 minutes. Remove from oven and let rest for about 30 minutes before serving. Serve warm or cold topped with Lemon Sauce.
Lemon Sauce
1/2 cup sugar
2 tablespoon corn starch
3/4 cup water
1/4 cup fresh squeezed lemme juice
1-2 tablespoons of fresh grated lemon zest
2 tablespoons real butter
Pre-measure all ingredients and have ready to use quickly.
min a small non-stick sauce pan mix together sugar and cornstarch. Start adding water and whisking together over medium heat until it comes to a boil. Continue to whisk and boil for one minute.
remove from heat and add zest, juice and butter. Stir until butter is melted. Let rest for a few minutes and serve warm over bread pudding.
TIP:
If you use caramel rolls scrape off some of the Carmel and discard to avoid pudding being too sweet.