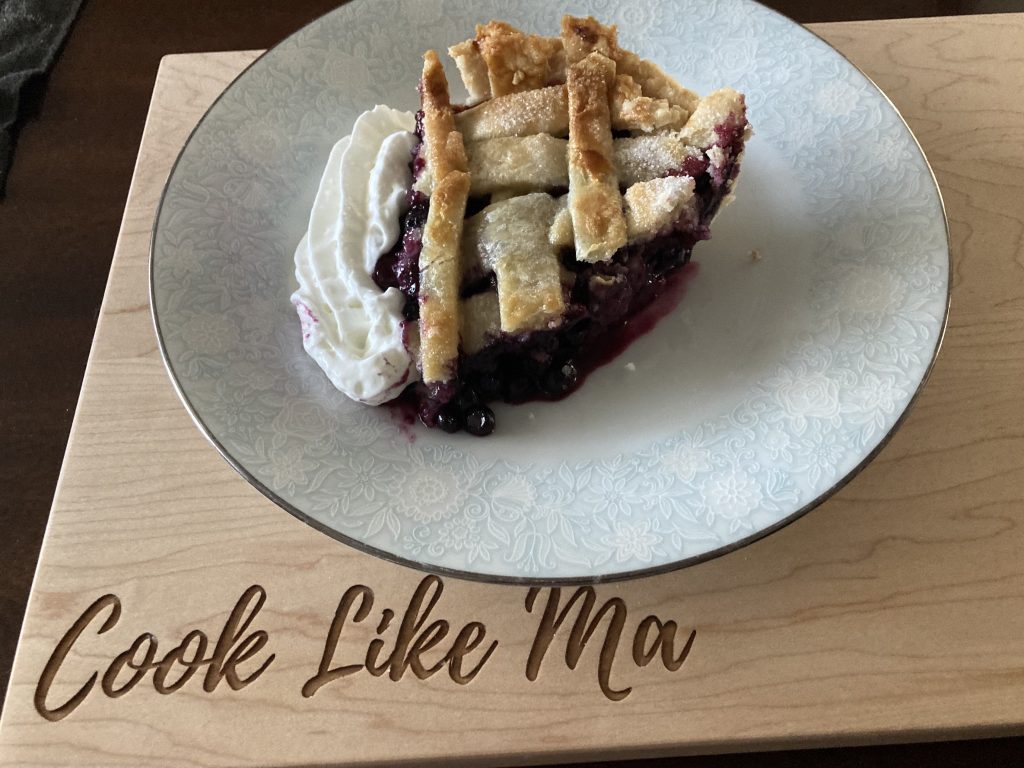 My dad loved blueberry pie. The other day when I made this one I wished that he were here to share it with us.
Adding the lemon zest and lemon juice to the pie brought out a lot of flavor.
Taste Tester Tom said it was the best blueberry pie he's ever had. Winner Winner!
Here's what you'll need.
4 cups fresh or frozen blueberries
1/2 cup sugar
1/2 cup brown sugar
Grated zest of one large lemon
Juice from one whole lemon
1/3 cup cornstarch
1 tablespoon butter cut into tiny pieces.
2 14 inch pie crusts
1 egg
1 tablespoon milk
Sugar
Mix berries, sugars, corn starch, zest and juice together and pour into a deep dish pie shell. Dot fruit mixture with butter.
Cut top crust into strips and arrange as lattice too on top. Whip egg and milk together and brush on top crust. Sprinkle with sugar.
Set pie on a cookie sheet and bake on center rack of a pre-heated 400 degree oven for 25 minutes. Reduce heat to 350 degrees and continue baking an additional 20 minutes. Let pie cool for at least 3 hrs before slicing.
Crust
2 cups flour
2/3 cup Crisco shortening
1/4 teaspoon salt
6 tablespoons water
Cut shortening into flour. Add about 1/4 teaspoon salt. I like to use a fork to make sure that the shortening and the flour is finely mixed. Add 6 serving spoons of water to the flour and shortening. You'll do this one spoonful at a time mixing it into the flour after each addition. I add the water to the edge of the bowl and blend toward the center.Continue mixing. Finish mixing using your hands to bring dough together into a ball.
Divide dough in half. Place each portion one at a time on a floured surface and roll into 14 inch circles.