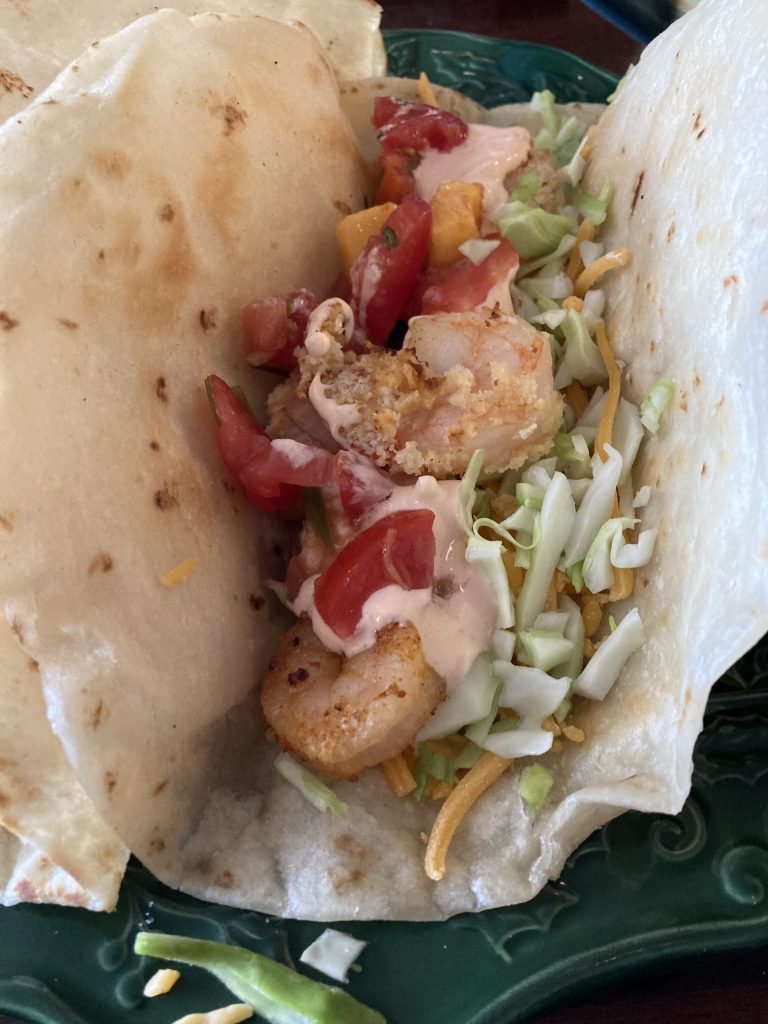 While I'm not yet a fan of air frying, I thought I'd give it another try. My new Ninja Foodi came with the capability of air frying.
So, I tried it on shrimp for tacos. They were tasty. I tried two versions; one crispy and the other seasoned.
Here's what you'll need.
2 doz medium to large shrimp cleaned and shelled
1/4 cup olive oil
1 teaspoon spicy seasoning of your choice
1.2 cup flour
1 egg
1 tablespoon milk
1/2 cup panko
olive oil
4 tortillas (corn or flour)
shredded cabbage
1 lime quartered
shredded cheddar cheese
mango salsa
1/4 cup mayonnaise
Sriracha to taste
lime juice to taste
Prepare shrimp by removing tails, peeling and cleaning. Pat them dry with paper towel.
Seasoned Shrimp
In a shallow bowl stir 1 teaspoon of spicy seasoning of your choice with about a 1/4 cup olive oil. Mix well and add shrimp stirring to completely coat it.
Place shrimp in cooking basket in air fryer. Heat to 360 degrees and cook with kids closed for 8 minutes. No need to turn.
Crispy Shrimp
In three separate shallow bowls place flour, egg snd milk mixture and panko.
Dip dry shrimp first in flour, then in egg and finally in panko.

Place coated shrimp in air fry basket and spray with olive oil and cook for 4 minutes at 360 degrees with lid closed. Turn shrimp and cook for an additional 4 minutes.
I used a crepe pan treated with olive oil to brown the tortillas. Once browned fold over with a paper towel or let rest on a taco mold.
Spicy Sauce
Mix mayonnaise , Sriracha and lime juice to taste.
Build the tacos
In each taco shell spread shredded cheese, chopped cabbage and a combination of both shrimp recipes. Top with spicy sauce and mango salsa. Serve with lime wedges.

Yields 4 tacos
TIPS
You can use pre-made salsa or make your own. You'll find a good Mango Salsa recipe on www.cooklikema.com.