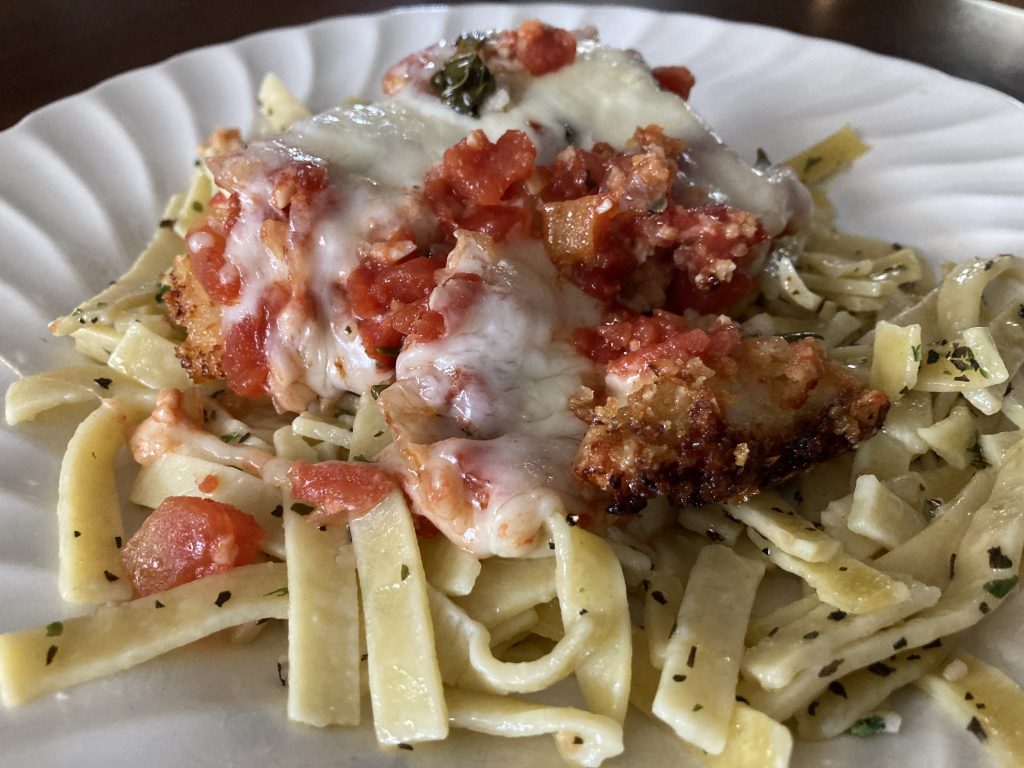 Always a favorite for me is Chicken Parmesan. This is a simple way to make this classic dish.
Here's what you'll need.
4 Boneless skinless chicken breasts
1 cup panko
3/4 cup fresh grated Parmesan
Fresh grated mozzarella
Olive oil
1 14.5 oz can of diced stewed tomatoes
1/2 yellow onion finely chopped
2 tablespoons chopped garlic
Fresh oregano
Fresh basil
Fresh ground sea salt to taste
Flat egg noodles
3 tablespoons real butter
Basil, garlic and pine nut seasoning
Sauce
In a saucepan heat olive oil and sauté onions and garlic with basil and oregano. Stir in tomatoes and add salt to taste. Simmer until it starts to thicken.
Chicken
Pat dry the chicken breasts. Pound with large ridges of a meat tenderizer on both sides. Pat dry again.
In a ziplock bag combine panko and Parmesan. Shake chicken in the bag to coat.
Add olive oil to an oven proof baking dish. Arrange chicken breast in dish. Add more panko mixture to top xand spray the top of chicken with more olive oil.
Bake uncovered in a pre-heated 450 degree oven for 25-30 minutes.
Remove from oven and spoon sauce over the chicken. Top with a liberal amount of grated mozzarella and return to oven for an additional 5 minutes.
Pasta
Make pasta according to package directions. Drain. Heat butter in a skillet and stir in drained pasta. Season with basil, garlic and pine nut seasoning. Stir to coat with butter and seasoning.
Serve chicken over the pasta. Yum!
Taste Tester Tom says this is a new favorite.
TIPS:
I used fresh basil and oregano but dried would work as well.
The basil, garlic and pine nut seasoning I use can be ordered online from The Olive Pit. You could also mix dried basil and garlic with pine nuts to make your own.