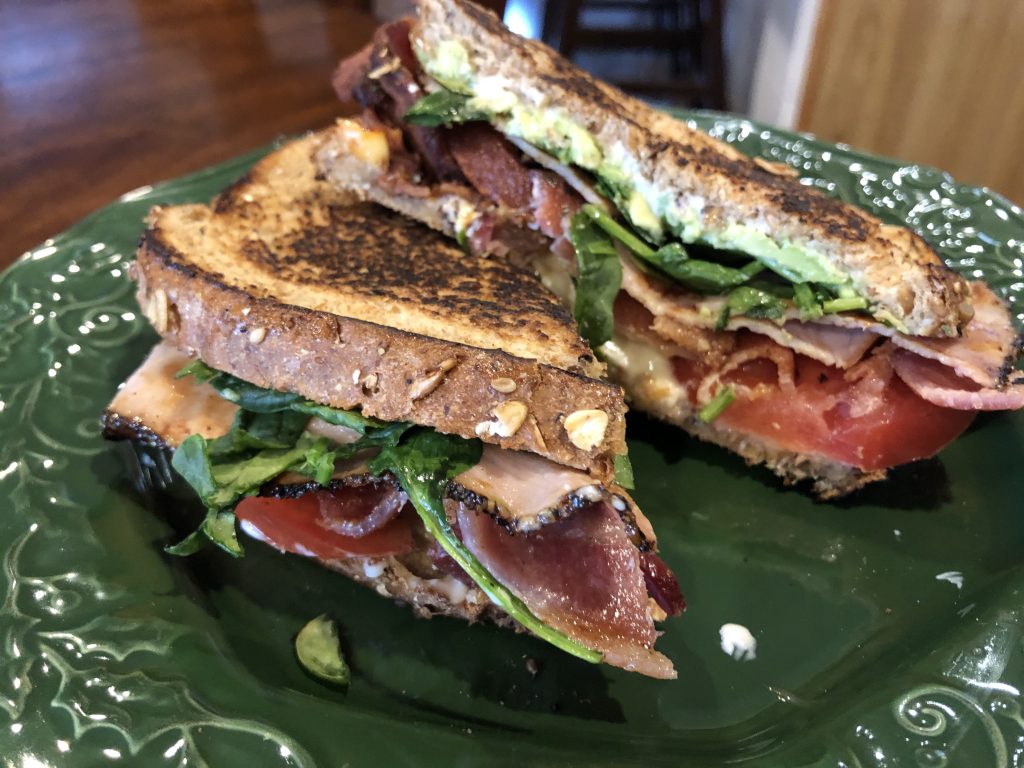 Sometimes you just want a good sandwich. Don't be shy about mixing ingredients to create the ultimate tasting sandwich.
This one is a dandy, rich in variety, texture and taste.

Here's what you'll need.
2 slices multi-seed bread
3 slices of crisp fried thick cut pepper-edged bacon
3 slices thin sliced pepper edged deli smoked turkey
3 slices of fresh tomato
Chopped fresh spinach
1 slice Muenster cheese
Real mayonnaise
2-3 table spoons mashed ripe avacado
In a large non-stick sauté pan crisp fry bacon strips and transfer to a paper towel lined dish. Pour off bacon fat. Using the same pan brown the turkey slices on both sides. Set aside with bacon.
Build Your Sandwich
Spread both slices of bread with mayonnaise. Top one slice of bread with avocado and cheese. Move back to pan where the meat was cooked. Start grilling bread slowly to begin melting cheese.
Top with tomatoes, bacon, turkey and spinach and cover with second slice of bread. Carefully turn the sandwich to brown on other side.
Don't get in a hurry. Grill at a medium heat to evenly toast and heat through.
It's a delicious sandwich. I think adding a handful of sprouts after grilling would be good too.