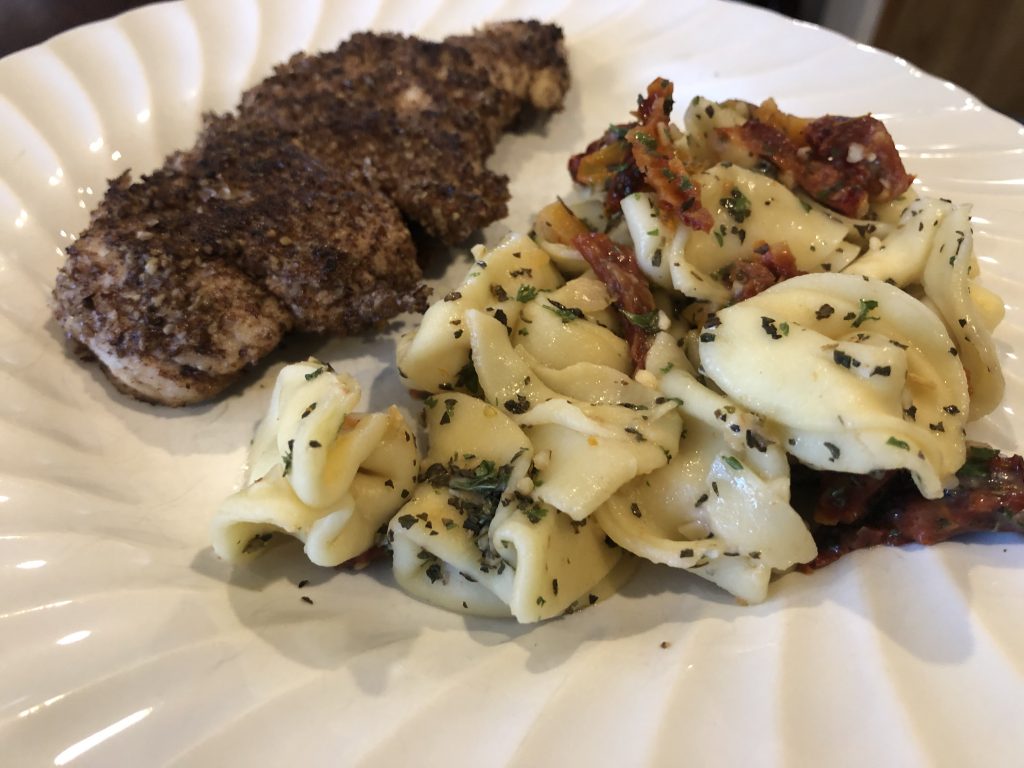 This combo made for a great meal. I like to try new things, so when I found pecan flour I wanted to give it a try. The results were delicious pecan coated chicken filets.
I pared it with tortellini and sun dried tomatoes seasoned with real butter and a basil, garlic and pine nut pesto seasoning from The Olive Pit (can order on line).
I used Buitoni brand refrigerated tortellini. They are perfect. No need to make homemade unless you just want to do it.
Here is what you'll need.

2 large boneless, skinless chicken breast
1/2 cup pecan flour
olive oil
1 package refrigerated Buitoni Tortellini
1/2 cup sun dried tomatoes cut into strips
2 tablespoon Olive Pit Basil,Garlic and Pine Nut Pesto Seasoning
2-3 tablespoons real butter
Cut chicken breast in half. Using a large meat mallet to pound the chicken, pound them into 4 thin cutlets. Pat dry with a paper towel. Coat the cutlets with pecan flour. Heat 2-3 tablespoons of olive oil in a non-stick sauté pan. When oil his heated on medium high heat add one cutlet at a time browning on both sides and cooking through. This doesn't take long since the cutlets are thin. Remove cooked cutlets to a paper towel line dish. Salt lightly with sea salt.
Meanwhile bring water and a tablespoon of olive oil to a boil. Add pasta and sundried tomatoes and cook according to package direction.
Drain pasta and tomatoes and toss with butter and pesto seasoning.
This quick and easy meal will impress your diners. No need to say how simple it was.
Note:
I used Nature's Eats finely ground Pecan Flour. I found it on Amazon.