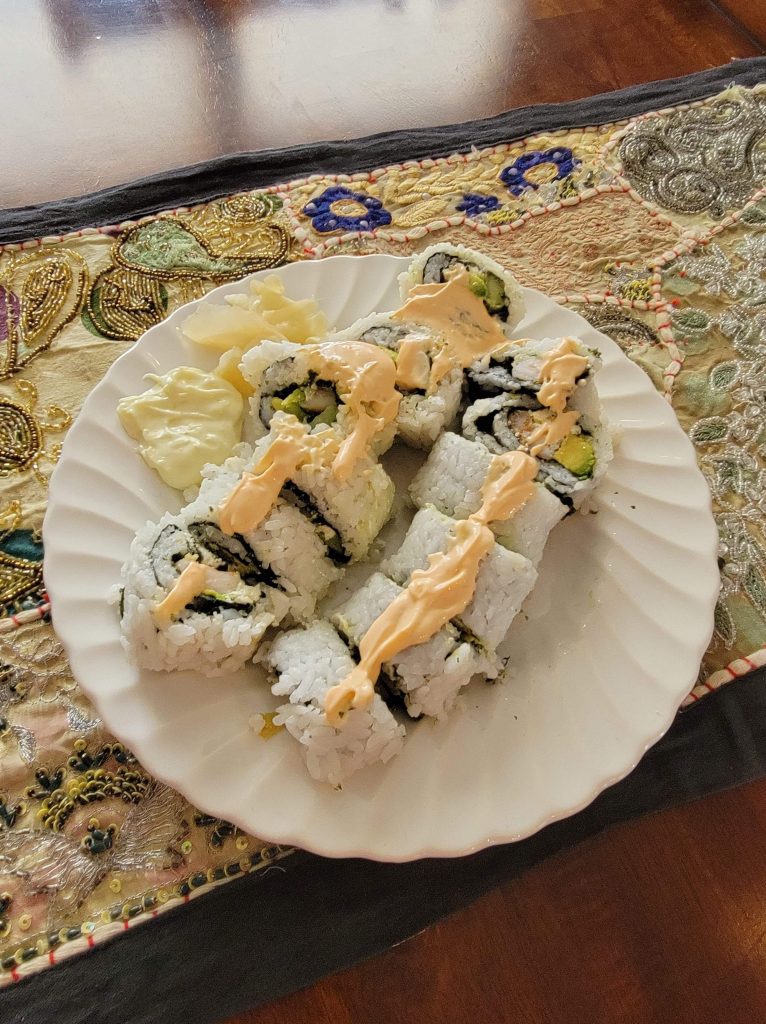 I'm still practicing making sushi. Here's what I tried today.
First I prepared Japanese rice according to package directions an then cooled it completely.
I removed tails from 1/2 pound cooked small shrimp and patted them dry with a paper towel. Next I dredged the shrimp in flour lightly coating. I heated about 2-3 inches of vegetable oil salt in a small fry pan. Oil should be about 360 degrees. Heat it on medium high.
I browned and crisped the shrimp in the oil and then transferred them to a paper towel lined bowl.
Peel a cucumber and an avacado and slice into strips. Cut a block of cream cheese into strips.
Tips:
Wrap bamboo sushi mat entirely in cling wrap. Using wet hands, pat prepared rice into a square on the mat. Top the rice with a seaweed square. Line up one after another shrimp, cucumber, avacado and cream cheese.
Beginning at the edge closest to you, use the bamboo mat to begin tightly rolling the sushi into a roll. Place seam side down on a serving plate and chill completely.
When rolls are entirely chilled, slice into small pieces and serve with pickled ginger and sauces.
Note: Pickled ginger can be found on Amazon or in the Asian food section of most grocers.
Spicy Sushi Sauce
The red spicy sauce you often see with sushi is easily made. Mix 2 tablespoons Japanese mayonnaise with 1 teaspoon Sriracha sauce and a dash of lime juice. Mix well, taste and adjust to your taste by adding more or less of ingredients.
Wasabi
Wasabi paste usually comes in a squeeze tube. It's pretty hot in this form. Mix it with Japanese mayonnaise to reach the degree of spiciness you like.