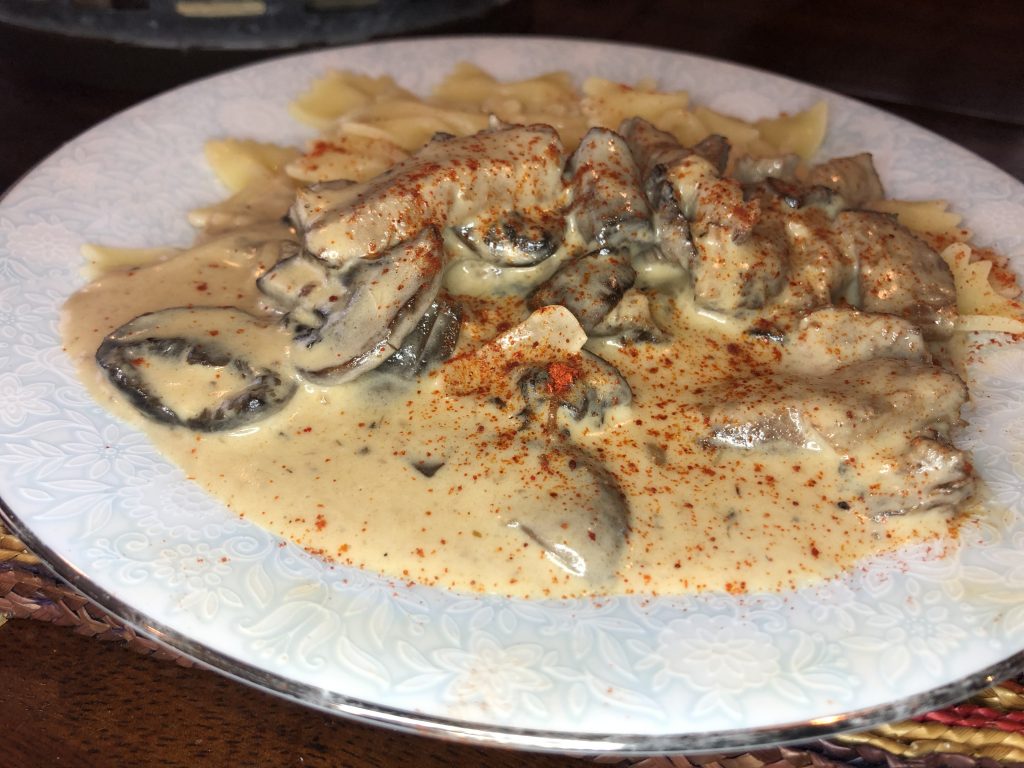 There's a cooking challenge television program where contestants have to take leftovers and turn them into something entirely different. I've done that for years, so I think I'd do well on the show.
Today I used leftover roast beef to make pasta and a stroganoff sauce.
Earlier in the week I made a Peppered Rump Roast with Smokey Onion Gravy. – Recipe for the roast is on this blog. Any leftover roast will work though.
I sliced the leftover beef roast into thin, bite sized pieces. In a zip lock bag I mixed flour and smokey paprika.
I added the beef to the seasoned flour and coated it well.
In a deep Dutch oven I heat 1 tablespoon each real butter and olive oil. I added the beef and sautéed until a little crispy. I removed the beef to a bowl.
In the same Dutch oven where I browned the beef, I heat additional tablespoons of butter and olive oil. I sautéed 1 large thinly sliced shallot and 1 cup sliced baby Bella mushrooms until tender. Next, I sprinkled remaining seasoned flour over shallots and mushrooms and stirred to coat. To this I added 2 1/2 cups beef broth. Gravy will begin to thicken. Stir in 3 tablespoons brandy, 1 tablespoon Dijon mustard and 1 teaspoon smokey paprika.
I added the beef and simmered on low while I made pasta according to package directions.
When pasta was ready, I stirred 1 cup heavy cream into meat mixture. I blended it well and let it heat through.

Serve stroganoff sauce over pasta.
Delicious!
TIPS:
I used bow tie pasta, but use whatever you have on hand. This would be good over penne or flat egg noodles. If you only have spaghetti on hand – use it!