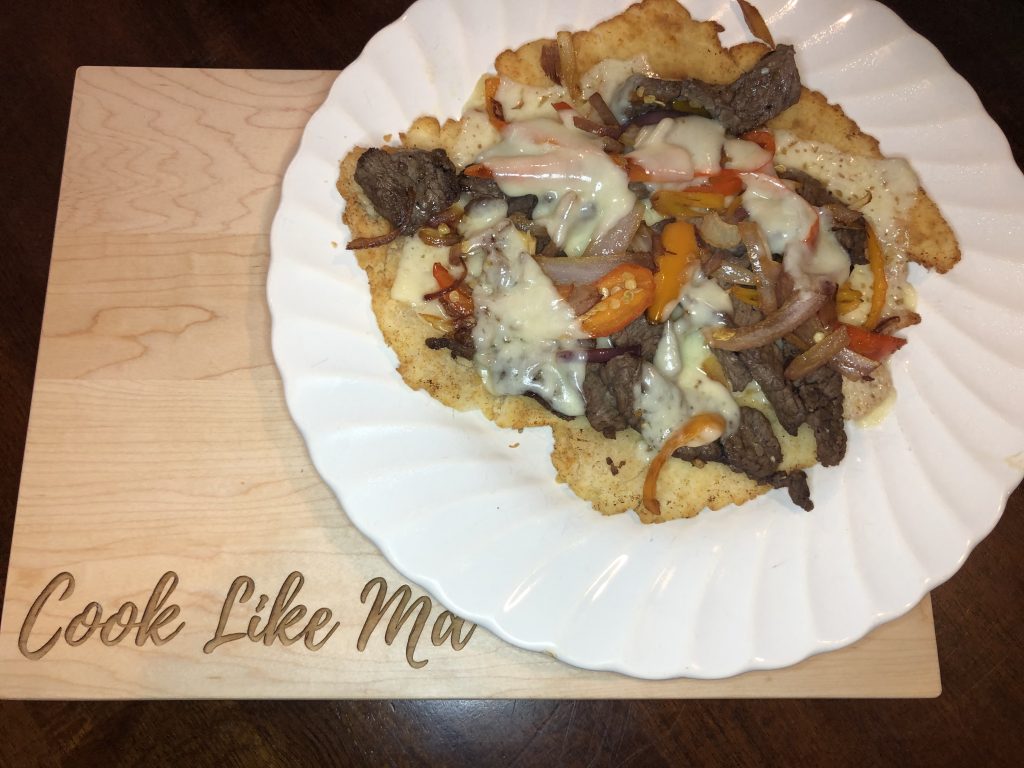 Oh yea! This is some good stuff. I combined the concept of Native American traditional fry-bread with the classic Philly Cheese Steak. So Good!!
Here's what you'll need.
2 medium sized round steaks
White vinegar
1/2 large red onion
6-8 mini red, yellow and red peppers
olive oil
Montreal Steak seasoning
Fresh ground sea salt
8 Cheese slices (pepper jack, Swiss, provolone or harvarti)
2 1/4 cups flour
1 Tablespoon baking powder
1/2 teaspoon sea salt
3 tablespoons shortening
1 cup whole milk
vegetable oil for frying
Cut steak into very thin strips. Place in a bowl and douse with vinegar. Let it marinate in the vinegar for about an hour. This will help tenderize the meat. Drain off excess vinegar. Pat the meat dry with a paper towel and return to the bowl. Season with Montreal Steak seasoning And sea salt. Set aside.
Cut peppers and onions into narrow strips.
Spray a sauté pan with olive oil, heat and add peppers and onions. Sauté on medium heat until tender but still a little crispy. Set aside.
Spray a second sauté pan with olive oil and heat. Sear steak strips until a desired doneness is reached. Set aside.
In a large mixing bowl, add to the milk the flour, shortening, salt, and baking powder. Mix well with a wooden spoon. Turn out onto a floured surface and knead dough until smooth. Cover with plastic wrap and let it rest for about 10 minutes. Divide dough into four equal portions. Roll each portion into about a 5 inch circle.
Heat about 2 inches of vegetable oil on medium high heat.
Using a fork, pierce the edges of the fry bread. One at a time, slip the bread into the hot oil. It should float to the top. Use tongs to grasp the bread and turn it over. Cooke for about 30 seconds on each side. Drain on paper towel.
Build you fry-bread.
On each fry-bread, place 2 slices of cheese, followed by the meat . The peppers and onions and topped with an additional slice of cheese. Microwave for about 30-60 seconds. Just long enough to heat thru the meat and vegetables and to melt the cheese.

Makes 4 servings