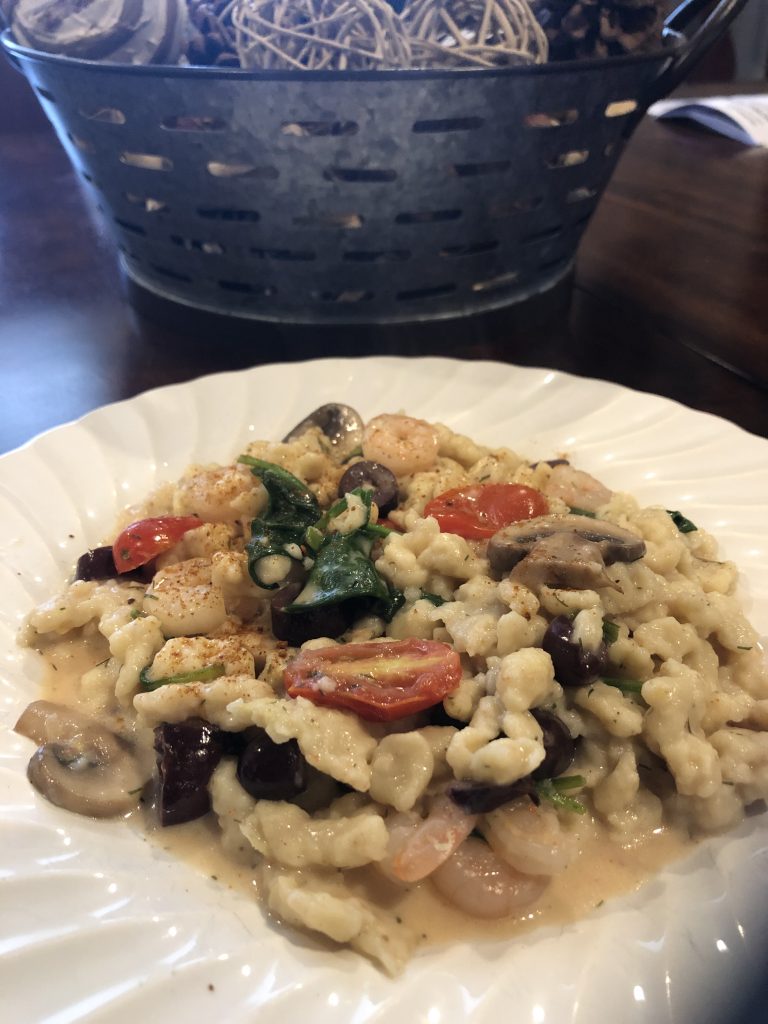 I'm still enamored with the Spaetzle versus regular pasta concept. This time I tried making shrimp pasta. It is just as good as a shrimp fettuccine, but with far less fat, carbs and calories.
it is very good.
Basic Spaetzle (Mix this batter first, but cook while it while sauce is simmering).
Here's what you need.
Large soup kettle of rapidly boiling water
1 1/2 cup flour
1 teaspoon sea salt
3/4 teaspoons nutmeg
3 eggs whipped
3/8 cup milk
Mix dry ingredients and set aside. In a medium mixing bowl whip the eggs. To the egg gradually mix in milk and flour mixture alternately. Mix until smooth. Place spaetzle maker over the bowling water. Spoon dough into Spaetzle maker cylinder and slide back and forth over slotted base into water. Spaetzle is done when it floats to the top. Scoop out of water with a slotted or wire mesh spoon. Stir in 1 tablespoon real butter to coat pasta.

Sauce
Here's what you'll need.
1 tablespoon olive oil
1 tablespoon real butter
1 cup chopped fresh spinach
1 bayleaf
1/2 cup slice kalamata olives
1/2 cup sliced fresh baby Bella mushrooms
2 green onions chopped
1/2 cup sliced cherry tomatoes
1 cup small peeled and cleaned shrimp ( fresh or frozen)
1 teaspoon lemon juice
1/2 cup vegetable or chicken broth
1/4 cup heavy cream
salt and pepper to taste
Heat butter and oil in a large deep sauté pan or skillet. Add all ingredients except broth and cream. Sauté until tender vegetables and shrimp is cooked.
Stir in broth and cream. Season to taste. Simmer until Spaetzle is cooked and drained. Remove bayleaf. Combine sauce and pasta. Dress with grated Parmesan cheese.