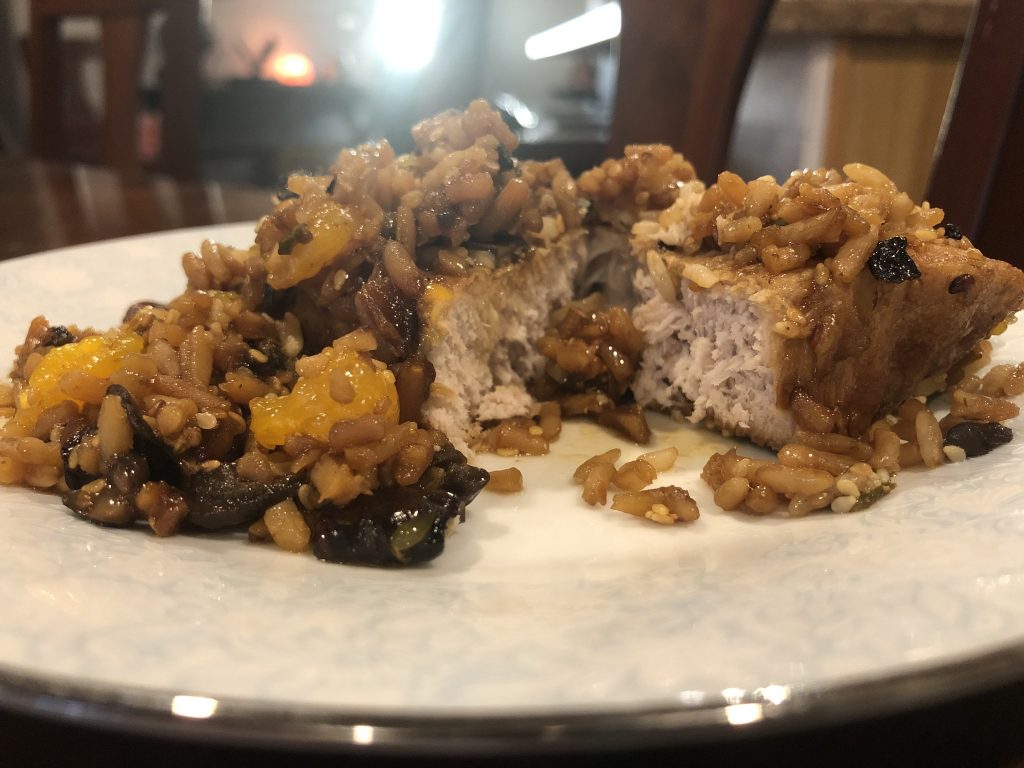 We love pork chops most any style. This Mandarin Pork Chop and Rice is a departure from fried chops and gravy, but it's a tasty change of pace.

Here's what you'll need.
4 boneless center cut pork chops
2 tablespoons sesame oil
sesame seeds
4 chopped green onions divided
1 small can of mandarin oranges including juice
1 teaspoon minced garlic
1 teaspoon Smokey paprika
1 tablespoon coconut aminos
1 packet instant boil in bag rice
1/2 jalapeño pepper with seeds and membrane removed
4-5 baby Bella mushrooms sliced
4 mini red and yellow bell peppers chopped
1 teaspoon spoon spicy sea salt
lemon juice
Heat sesame oil in deep cast iron skillet or Dutch Oven . Add 2 chopped green onions and cover bottom of pan with sesame seeds. Add chops and sear on both sides. Scoop up some of seeds and onions to coat both sides of the chops. Turn heat to medium low and add oranges with liquid, garlic, and coconut aminos. Cover and simmer on low until meat is tender.

Prepare rice according to package directions. In a deep sauté pan melt utter and sauté remaining onions, peppers and mushrooms until tender. Stir in cooked rice, season with salt and pepper and a bit of lemon juice.
Serve chops with rice spooned on top.