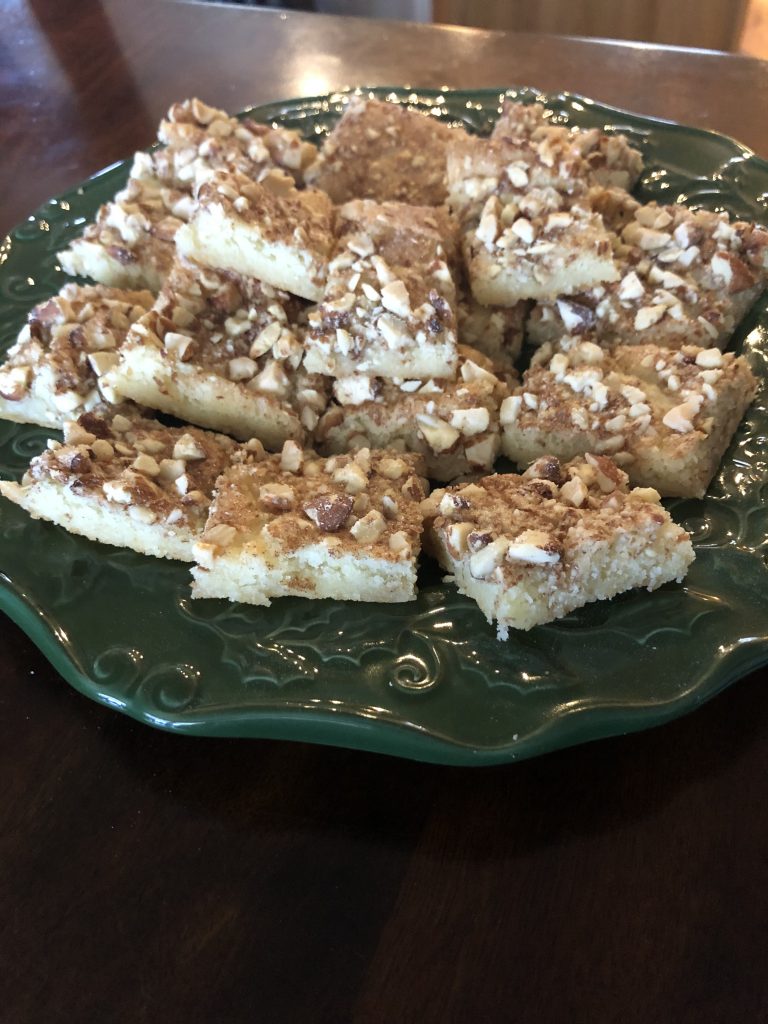 I love making recipes that have been passed down from people I've been lucky enough to have had in my life. This wonderful, buttery almond bar was one of my favorites made by my beloved cousin Lynne Johnson.
I miss Lynne and making these from a recipe written in her own hand brought blessed memories back to me as I baked.
Here's what you'll need:
1 cup softened real butter
1 cup white sugar
1 egg separated
2 1/4 cupS flour
1 teaspoon almond extract
3/4 cups sliced or chopped almonds
1 tablespoon sugar
1/4 teaspoon cinnamon
Beat butter and sugar in mixer until fluffy. Add egg yolk and almond extract blending well. Stir in flour.
Spread evenly on a 15" x 10" cookie sheet.
Beat egg white until foamy and spread over dough. Mix sugar and cinnamon and sprinkle evenly over egg white. Top with almonds.
Bake in a pre-heated 350 degree oven for 25 minutes until golden brown. Cool for 10 minutes before cutting into squares.

TIPS:
Lynne's recipe said to bake on a non-greased cookie sheet, but I sprayed mine with non-stick spray as a precaution.
Lynne used slivered almonds. I instead used chopped. Both work equally well.