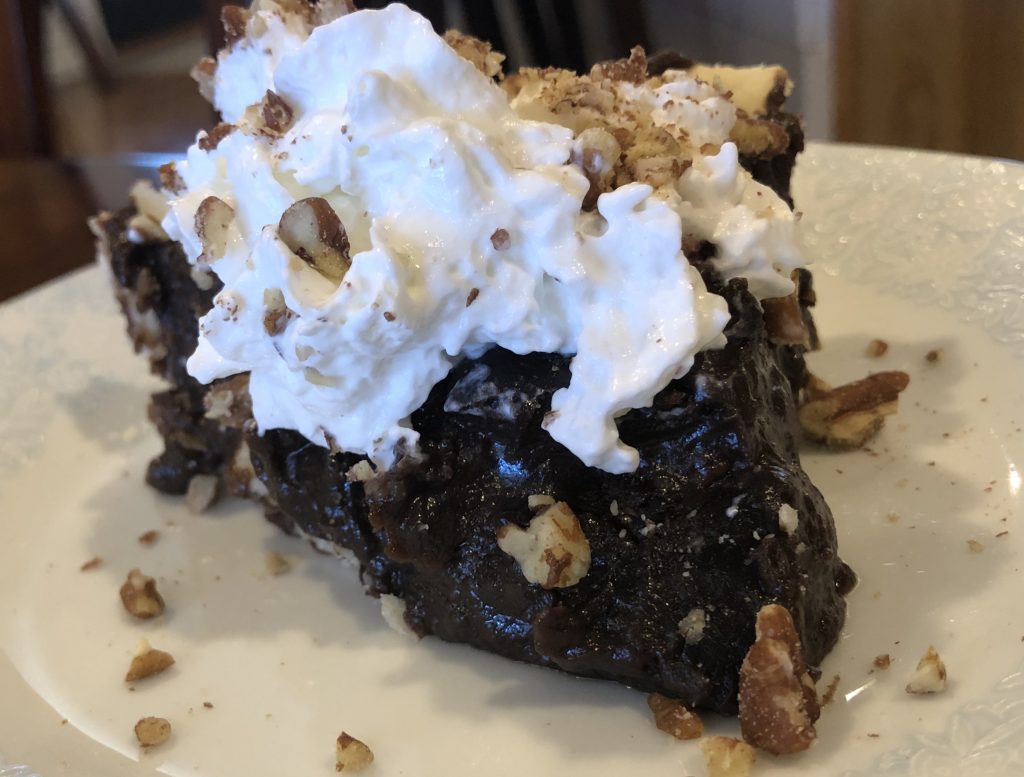 This deep dish chocolate pie as an extra flavor with pecans in the crust and Irish Cream in the filling.
This is what you'll need.
1 1/2 cup sugar
1/4 cup cornstarch
1/4 teaspoon salt
1/2 cup unsweetened cocoa
1/8 cup Irish Cream Liquor
2 cups heavy cream
3/4 cup milk
4 whipped egg yolks
2 teaspoons vanilla
2 tablespoons real butter
1 cup chopped pecans
1 14" baked pie crust
Whipped cream
CRUST
To make your crust cut 1/3 cup of vegetable shortening (I use Crisco) into 1 cup of flour. Add about 1/4 teaspoon salt. I like to use a fork to make sure that the shortening and the flour is finely mixed. Add 3 serving spoons of water to the flour and shortening. You'll do this one spoonful at a time mixing it into the flour after each addition. I add the water to the edge of the bowl and blend toward the center.Continue mixing. Finish mixing using your hands to bring dough together into a ball.
On a floured surface, roll out into a 14" circle. Place in a 12 quiche pan that has been sprayed with non-stick spray and bring up the sides. Sprinkle chopped pecans on bottom of crust and press into pastry. Cover with tin foil and weight with dried beans or rice. Bake in a preheated 400 degree oven for 15 minutes. Remove from oven and discard weight. Allow crust to cool on a wire rack.
FILLING
Mix in a sauce pan all dry ingredients. Slowly add eggs and liquids whisking until blended. Turn heat to medium high and continue to whisk while mixture cone to a bubbling boil. Boil for 1 minute. Remove from heat and add vanilla and butter. Stir to combine and melt butter. Pour filling into the baked crust and refrigerate until completely cold.
Serve with a dollop of whip cream and a sprinkle of pecans.
Makes 8 servings