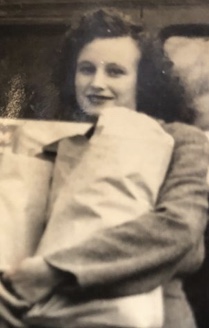 My Aunt Edna used to make the best lasagna. I watch her do it enough times that I kinda caught on how to make it like she made it. Over the years I added a few changes but I still think of my Aunt Edna when I make it.
Taste Tester Tom says Winner Winner and moved it into the top 10 of things I've made.
YOU'LL NEED:
2 lbs lean ground beef
1/2 cup chopped white onion
1/4 cup chopped garlic
2 14.5oz cans crushed tomatoes 
1 12oz can tomato paste
1 14.5oz can tomato sauce 
1/2 cup water
2 teaspoons dried basil
2 teaspoons Italian Seasoning 
salt and pepper to taste
1 carton Ricotta Cheese
1 egg
Shredded mozzarella
Shredded Parmesan
12 lasagna noodles
Brown beef with onions in a 5 quart Dutch Oven. Drain off excess liquid.
Add remaining ingredients except cheeses, egg and pasta and simmer for 2-3 hours.
Pasta
You can used packaged lasagna noodles (12) prepared according to package directions.
OR
You can easily make your own. BUT – make them the day before and let dry over night.
In a mixing bowl add 2 cups flour. Make a well in the center of flour. Whip together 1/2 cup water and 5 large eggs. Pour a portion of egg mixture into well. Start mixing in the flour bringing it from the sides to the center. Continue adding egg mixture to center a little at a time and continue to stir flour to the center until soft dough forms. Transfer dough to floured surface and knead until smooth. Divide dough into fourths and roll each portion very thin. Cut into rectangles the desired length and width.
When you are ready to use, add pasta to boiling water (add a little olive oil) and boil for 8 minutes. Remove from heat and submerge noodles in ice water. Pat the noodles dry with a paper towel and start assembling the lasagna.
Assembling Lasagna
Spray a 9×13? Pan with not stick spray. Spread a third of the sauce on the bottom of pan. Top with 4 lasagna noodles. Spread with 1/3 of egg/ricotta mixture. Top with as much mozzarella as you like. Repeat with remaining sauce, pasta, ricotta and mozzarella. Top with fresh shredded Parmesan.
Cover with foil and bake in a preheated 375 degree oven for 25 minutes. Remove foil and continue baking for an additional 25 minutes.
Let cool for 15-20 minutes before serving.
TIPS:
I've made this dish with packaged pasta and it was good, but the homemade pasta really adds something good.
For Italian Seasoning I like to use Herbs de Provence Seasoning but any good Italian Seasoning will do.