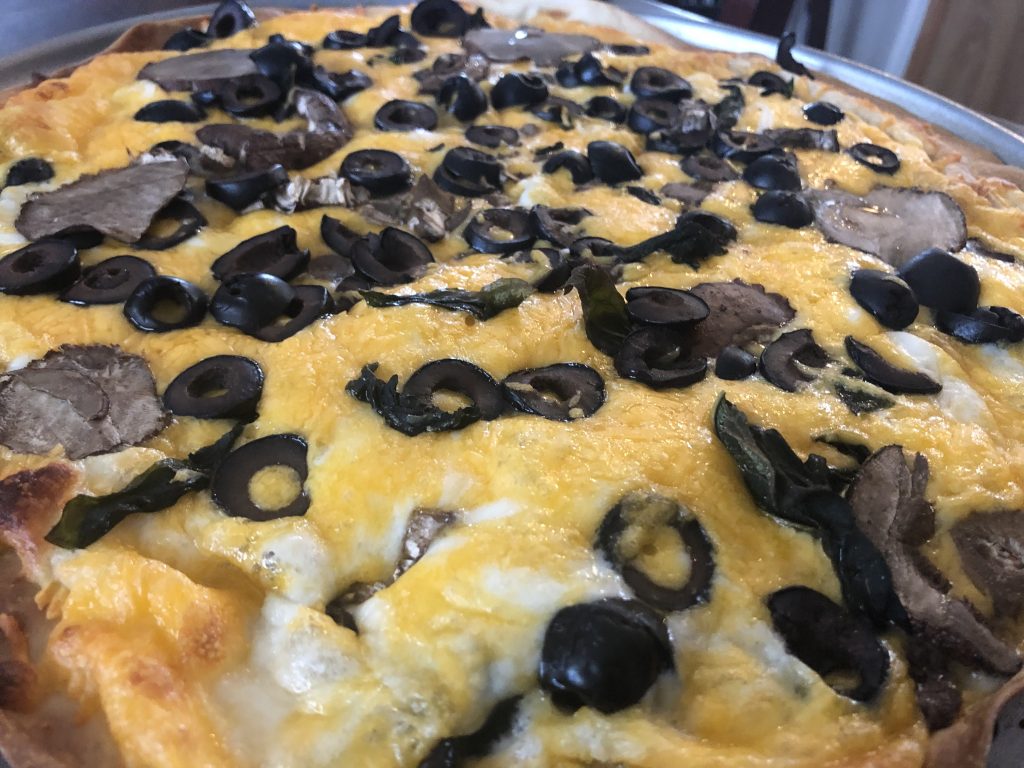 Pizza is always a winner. We are fond of a thin crust so I've been making flat bread crust. This triple cheese pizza on flat bread eliminates having to use a red sauce. It also has more cheese and less crust. Delicious.

CRUST
Into a stand mixer bowl put 2 loosely filled cups flour and 1/2 teaspoon finely ground sea salt and 1/2 teaspoon Italian Seasoning. Fill a Pyrex measuring cup with 3/4 cup milk and 3 1/2 tablespoons real butter. Place in the microwave and heat just until butter starts to melt. Add to the flour and salt and mix with a flat paddle mixing attachment until soft dough forms. Place dough on a floured surface, sprinkle with flour and knead until smooth. This doesn't take long. Form dough into a ball and wrap up in plastic wrap. Let it rest at room temperature for 30 minutes.
Remove plastic wrap and place dough onto a floured surface. Cut dough in half and roll each half into a 12-14 inch circle depending on the size of your pizza pan. Spray the pan with non-stick spray. Liberally brush crust with olive oil and place in a preheated 425 degree oven for 5 minutes. Crust may create a bubble on top. Just stick it with a sharp knife and deflate it. Remove from oven and add toppings. Once topped return to the oven for 9-12 minutes.
TOPPING
2 cups shredded mozzarella cheese
1 1/2 cup shredded cheddar cheese
1 1/2 cup shredded Monterey Jack cheese
desired amount of sliced black olives, thinly slice brown mushrooms and fresh basil.