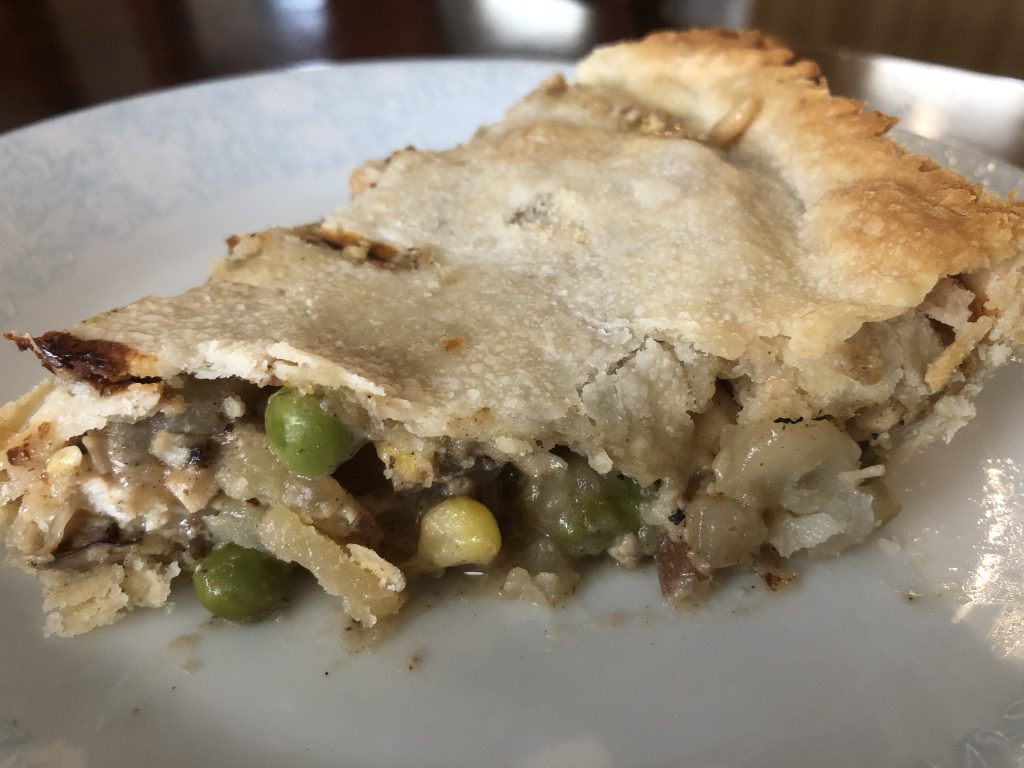 CRUST
Make a double crust.
2 cups flour
2/3 cup Crisco shortening
1/4 teaspoon salt
6 tablespoons water

Cut shortening into flour. Add about 1/4 teaspoon salt. I like to use a fork to make sure that the shortening and the flour is finely mixed. Add 6 serving spoons of water to the flour and shortening. You'll do this one spoonful at a time mixing it into the flour after each addition. I add the water to the edge of the bowl and blend toward the center.Continue mixing. Finish mixing using your hands to bring dough together into a ball.
Divide dough in half. Place each portion one at a time on a floured surface and roll into 14 inch circles.
Place one rolled crust into a deep dish pie dish. Do not trim. Set aside both crusts.
FILLING
2 cups diced peeled potatoes
1 cup butter, cubed
2/3 cup chopped onion
1 cup all-purpose flour
1-3/4 teaspoons salt
1 teaspoon dried thyme
3/4 teaspoon pepper
3 cups chicken broth
1-1/2 cups whole milk
4 cups cubed cooked chicken
1 cup frozen mixed vegetables
Melt 1 tablespoon butter in a 5 quart Dutch Oven. Add chicken and brown. Set aside. Melt additional butter to Dutch Oven and add onions. Sauté until tender and set aside. Add potatoes to Dutch Oven and add enough water to cover. Cook until tender. Do not drain.
In a sauce pan melt butter. Stir in flour. Add broth and milk. Simmer until thickened. Add with chicken, onions and all other ingredients to potatoes. Season with pepper and thyme. Blend well and spoon into crust. Place top crust on pie. Trim edges using a fork. Make slits in top crust to release steam while baking.
Place on the center rack of a pre-heated 425 degree oven for 35 minutes. Remove from oven and let rest for 10 minutes before slicing.