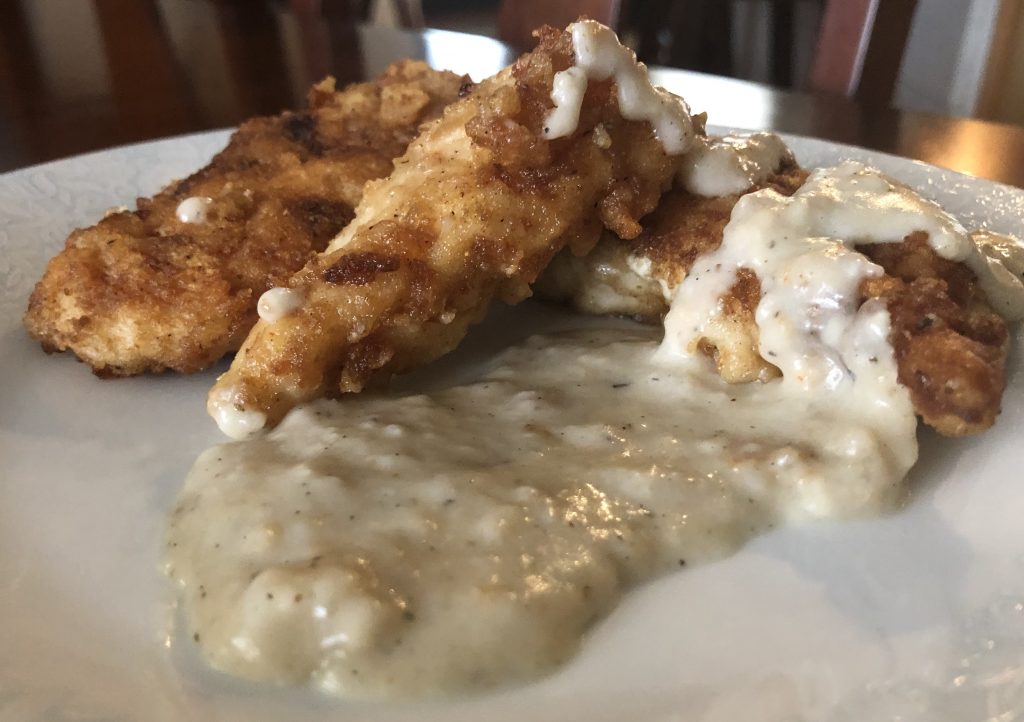 Winner Winner Chicken Dinner!!
This crispy chicken and old fashioned milk gravy bursts with savory herb flavor.

CHICKEN:
12 boneless skinless chicken tenders
1 cup flour
1/2 teaspoon sea salt
1/2 teaspoon sage
1/2 teaspoon poultry seasoning
1/2 teaspoon Cajun seasoning
1/2 teaspoon dehydrated onion
1/4 cup canola oil
In a large ziplock bag mix flour and seasonings. Pat chicken dry with paper towel. Drop chicken into flour. Zip bag and shake to coat chicken.
Heat the oil in a 5 quart Dutch Oven. Arrange the chicken in the bottom of the Dutch Oven in the hot oil turning to brown on both sides. Reduce heat cover and let cook until tender. Remove from heat
GRAVY:
2-3 tablespoons of seasoned flour
1 cup milk
salt & pepper to taste
Whisk flour into hot oil where chicken was cooked. When flour and oil begins to brown add milk and continue to whisk until thickened. If it gets to thick thin by adding a little chicken broth. Salt and pepper to taste.