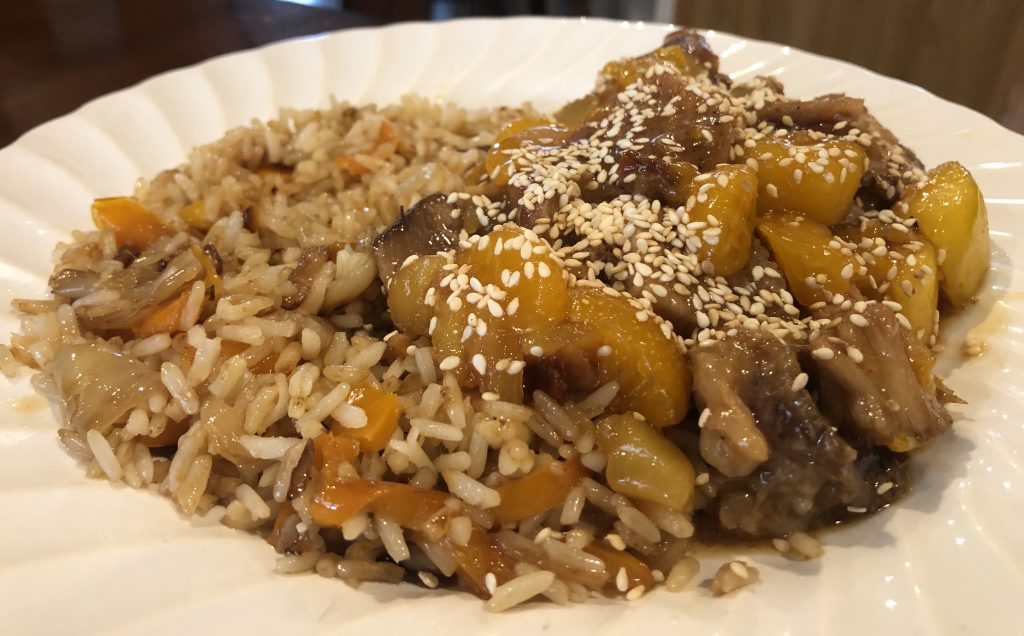 Taste Tester Tom gave this one a 2 thumbs up winner winner stamp of approval.
Pre-heat Oven to 300 degrees. Place 3-4 large pork steaks in a Dutch Oven. Add 1 cup of water and 1 tablespoon fresh ginger pieces. Cover and slow roast for 2 1/2 to 3 hours.
RICE:
2 cooking bags of 10 minute rice
1 tablespoon bacon drippings
2 yellow mini bell peppers chopped
1 small shallot chopped
2 tablespoon real butter
1 teaspoon coconut aminos or soy sauce
salt to taste
Prepare rice according to package directions. In a medium size skillet heat bacon drippings. Add chopped peppers and shallot and sauté until tender. Add cooked rice and season with butter, coconut aminos, and salt. Set aside.
SAUCE:
Pineapple juice mixed with liquid from 1 small can of Mandarin oranges and mango juice to equal 1 cup
3/4 cup light brown sugar
1/3 cup Apple cider vinegar
3 tablespoons catsup
2 tablespoons coconut aminos
Corn starch slurry (1 1/2 tablespoons cornstarch dissolved in 2 tablespoons water).
1/4 cup each pineapple chunks, mango chunks, Mandarin oranges, sliced bell pepper.

When meat is cooked remove from Dutch Oven and set aside. In same Dutch Oven prepare sauce by combining all ingredients and heating until thickened.
Cut pork steaks into bite sized pieces and stir into sauce.
Re-heat the rice. Spoon meat and sauce over rice. Dress with toasted sesame seeds.

TIPS:
If you don't typically have saved bacon drippings, cut a couple of slices of thick sliced bacon into tiny pieces. Fry until crisp. Don't drain off fat. Sauté shallots and peppers in same pan. Leave the bacon in the pan to and stir in rice. The bacon will add to the rice.
It's ok to use all pineapple juice instead of mixing juices.
The easiest way to toast sesame seeds is to place raw seeds on tin foil and brown in a toaster oven.