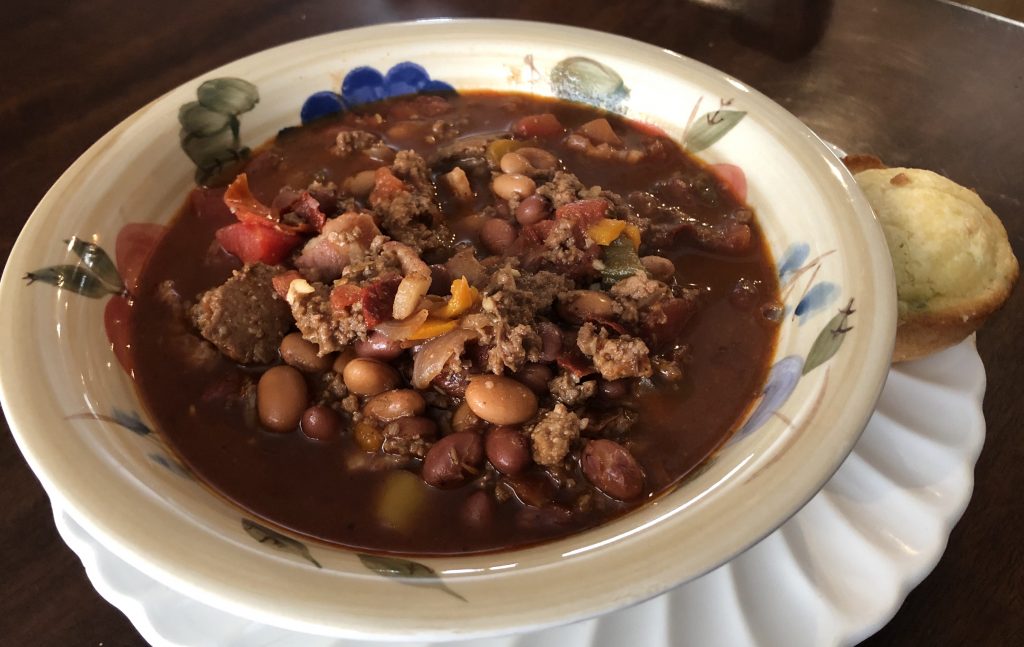 It's time for Chili Beans. We had a fair amount of snow here in North Dakota this week. Snow or any kind of cold weather always makes me want Chili Beans.
Here's how I make mine.
CHILI BEANS
1 lb lean ground beef
2 strips thick cut bacon cut in pieces
1 chopped small red onion
1 chopped jalapeño pepper (stem, seeds and membrane removed)
4 chopped mini red and yellow bell peppers
1 Ancho pepper chopped with stem and seeds removed
1 15 ounce can chopped tomatoes
1 small can tomato sauce and equal amount of water
2 teaspoons chopped garlic
1 teaspoon dehydrated onion
2 15 ounce cans pinto beans with liquid
1 15 ounce can red kidney means with liquid
Chili powder
Cumin
Hot Paprika
Fresh ground sea salt
In a five quart Dutch Oven brown beef, bacon, onion and peppers. Drain off excess fat. Add tomatoes, tomato sauce and water and beans.
Stir in garlic, dehydrated onion and mix well. Season to taste with remaining ingredients.
simmer for at least an hour to thicken.
So Good on a cold day.